Creating 'Julia,' the first Muppet on the autism spectrum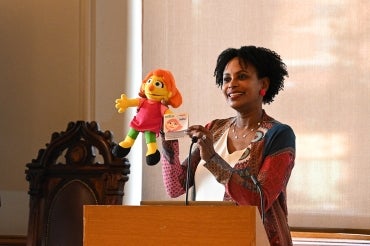 When most people think of Sesame Street they envision cherished childhood memories of singalongs and fun with Big Bird and Cookie Monster.
But for Rhonda McEwen, president and vice-chancellor of Victoria University in the University of Toronto, the show's loveable cast of Muppets represent something even greater – a form of technology and media that can improve accessibility and inclusivity across the world. 
McEwen recently discussed her experience working with Sesame Street Workshop on the first Muppet on the autism spectrum, a red-haired little girl named Julia. As part of Sesame Street in Communities, Julia was created to support families and care providers while creating public awareness about autism. The project made headlines around the world for its ground-breaking inclusion of autism within programming designed for children. 
"They reached out to me and said they were gathering a group of the world's leading researchers to inform the project," said McEwen, who is also a professor at U of T Mississauga's Institute of Communication, Culture, Information and Technology, during a recent talk held by the Victoria Women's Association. "Initially, though, they were not going to create a Muppet because they were very costly, take many years and require very careful research." 
As a Canada Research Chair in tactile interfaces, communication and cognition and co-author of the peer-reviewed book Understanding Tablets from Early Childhood to Adulthood, McEwen says it was her research on touchscreen technology for children on the autism spectrum that initially caught the eye of program co-ordinators at the Sesame Street Workshop.  
Serving on an international advisory board for the Sesame Street Workshop, McEwen joined a team of experts tasked with determining how Sesame Street could best provide educational resources to represent autism. The result was a multimedia initiative called Sesame Street and Autism: See Amazing in All Children, which featured Julia in videos, apps and print and digital stories, such as the e-book We're Amazing 1, 2 3!, which McEwen helped create. 
In 2017, Julia appeared in her first Sesame Street episode, titled "Meet Julia." In the episode, Julia is introduced to audiences as a little girl on the autism spectrum – a creative, friendly child who does things a little differently, or, in the words of fellow Muppet Abby, "in a Julia sort of way." The 10-minute YouTube video of this episode has since garnered more than 7.7 million views. 
McEwen emphasized that Julia was not intended to be a universal depiction of all children on the autism spectrum – a condition that can present itself differently on a case-by-case basis – but was developed through meticulous research and consultation with families. "Every single line of dialogue was carefully scripted and there is meaning behind every expression we chose," she says.  
Even though working on a Muppet may appear to be outside the wheelhouse of somebody with a PhD in information, a master's degree in telecommunications and an MBA in information technology management, McEwen says Julia is like any other form of technology. 
"How do we define technology? If technology is how we use science and mathematical thinking to carry out a particular goal or aim, then Julia is a technology," she says. "Whether we use Julia in her analogue or digital form, we're using her to spread and share information about autism across the world." 
All technology, says McEwen, can enhance inclusion – an issue of significant importance to her both as a researcher and leader at Victoria University.
"One of the Sesame Street lines I often repeat when speaking with students, staff and faculty is, 'Who are the people in your neighbourhood?' Getting to know and understand the diverse members of [our] community will allow us to address individual needs so that everyone feels that they belong," she says. 
"Working on Julia has just been one of the best parts of my research career – to see the work that I do translate into real people's lives in a way that some of my most exciting papers do not," says McEwen.  
McEwen, who remains on the advisory board with Sesame Street Workshop, sees plenty of exciting opportunities to continue making a difference in the years ahead.
"Nothing energizes me more than seeing young people inspired by learning, and I have the pleasure of that experience every day at Vic and in my work with Sesame Street."
Arts & Science