Craft beer sampling and wellness workouts: Check out these August events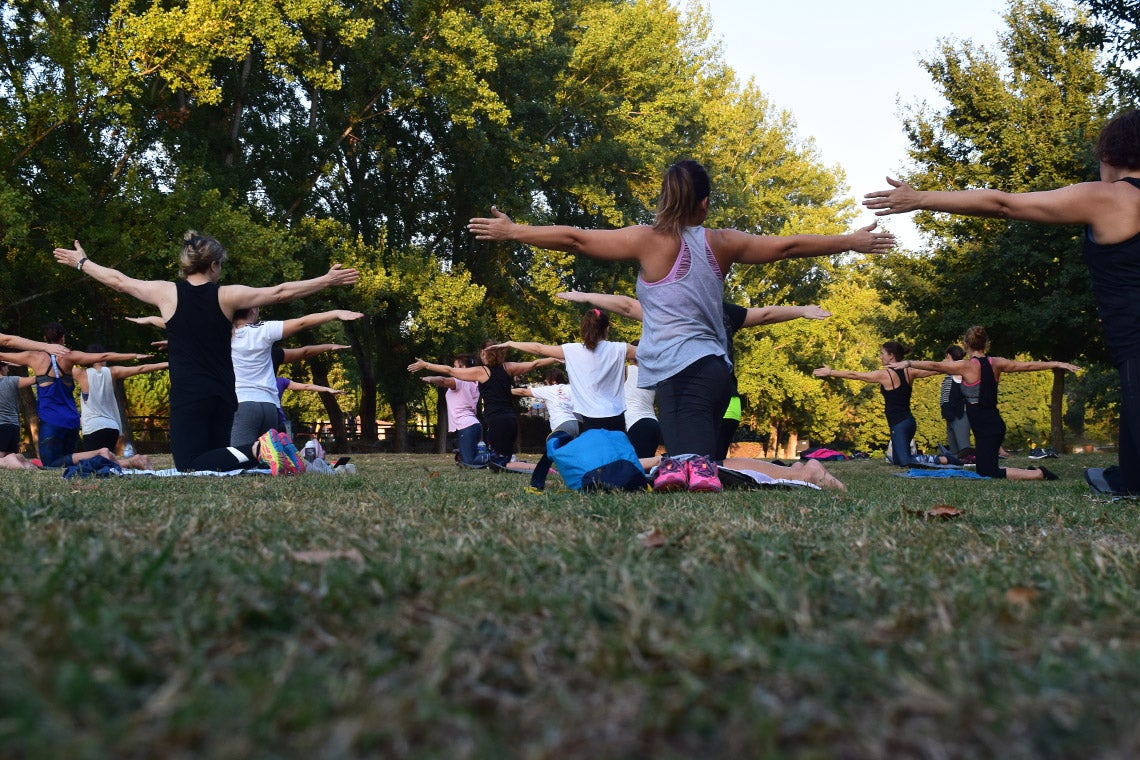 The new school year might be just around the corner, but you don't need to get bogged down by textbooks just yet. Spend August taking advantage of the many events happening at all three University of Toronto campuses and in and around the GTA, from sampling brews at the Hart House Craft Beer Festival to white water rafting with U of T Scarborough.
You can also use this final summer month to prepare for the coming semester. From drop-in yoga to a Health & Wellness Facebook livestream, all three campuses offer opportunities to garner tools for practising self-care throughout the school year.
Finish your summer strong with these August events.
---
Aug. 1
The Hart House Craft Beer Festival is back, featuring more brews than ever before. Head to the Hart House quad for beer sampling, prizes and all-you-can-eat barbecue (as well as a selection of vegan options). Student tickets are discounted at $34.95.
Aug. 5
Visit the historic Soldiers' Tower and watch world-renowned carillonneur Tin-Shi Tam play the U of T carillon's 51 bells. Enjoy the outdoor seating and the unique musical experience with free admission.
Aug. 7
If the summer holidays have you itching to learn something new, stop by U of T Scarborough for weekly drop-in ukulele sessions, every Wednesday from 1 p.m. to 2 p.m.  Everyone is welcome, from ukulele aficionados to total beginners.
Check out Cities by Design: The Future of Urban Mobility to examine how transportation infrastructure affects the way Torontonians live and move within the city. Hear Shoshanna Saxe, an assistant professor of civil and mineral engineering, speak about transportation infrastructure, and William Denning of Walmer Consulting on the economics of providing transit services.  
Aug. 8
Drop in to Beyond Books, a talk on how to optimally use U of T's 44 libraries as a grad student, including information on research resources and digital services.
Exhausted by a fruitless job hunt? The LinkedIn Lab focuses on refining your LinkedIn profile to attract potential employers and help you score that coveted job interview. Located at U of T's Career Centre, this workshop will help you navigate social media and personal branding strategies and integrate them into your career networking practice. Register for the workshop on Aug. 8 or Aug. 30.
Aug. 14
The third annual Smarti Gras at U of T Mississauga is this summer's hot ticket event celebrating undergraduate research. The event will feature top students' presentations on diverse research topics – along with ice cream, music and a barbecue lunch.  
Aug. 15
Nothing says peaceful more than a free half-hour session of outdoor mindful yoga. Stop by U of T Mississauga on any Thursday in August to de-stress, connect with the outdoors and learn some new poses.
Aug. 21
U of T parents and their children are invited on a walk through Riverdale Farm, hosted by the Family Care Office. Register for this unique opportunity to spot feathery and furry farm animals, while forging new friendships.
Aug. 22
Summer's almost over – have you checked everything off your summer bucket list?  If not, join the U of T Scarborough community for a white water rafting expedition. Spend the final days of summer camping and making memories at the scenic Wilderness Tours Resort. Students can register for the trip, which takes place from Aug. 22 to 24, for only $150.
Aug. 23
Join fellow fossil lovers for this year's Canadian Paleontology Conference. Hosted by U of T Mississauga, the conference will run from Aug. 23 to 25 and tickets can be purchased for as little as $20.
Aug. 25
For those looking for a last-minute place to stay during the school year, there's no need to panic. Head over to the Student Success Centre for the final housing fair before orientation, where students can network with landlords and potential roommates.
Anyone who thinks raindrops on roses and whiskers on kittens are worth celebrating – and singing about – should stop by the Hart House East Common Room for the Hart House Chorus's free showcase, titled A Few of Our Favourite Things.
Aug. 26
Spread your metaphorical wings at Social Butterflies: Reclaiming the Positive Power of Social Networks. Michael Sanders' lecture aims to harness the hyper-sociality of the modern social media moment to create a space of positivity, connectivity and happiness. Registration is $32 and includes a hardcover copy of Sanders's book, Social Butterflies.
Aug. 29
Calling all new students: Staff from U of T Health & Wellness are hosting a live stream to answer the top ten questions asked by students during orientation and over the first few weeks of university. Watch the presentation live on Facebook.   
Aug. 31
Undergraduate residence move-in days begin for all students living at U of T Mississauga, U of T Scarborough and Loretto College on the downtown Toronto campus. If you're moving on this day – good luck! 
International and exchange students are welcome to drop by the Centre for International Experience (CIE) Services Expo, where they can learn about the resources and supports available to them, including information about phone plans, banking and more.
End the summer on an academic note with the one-day conference, Invisible Challenges in Medicine. Listen to keynote speeches and attend workshops that will spotlight discrimination in the medical field and spark a dialogue around promoting equity in clinical settings. Tickets are $5 and lunch is provided.
UTC