COVID-19: 'We want to control the burn as best we can,' U of T epidemiologists write in the Globe and Mail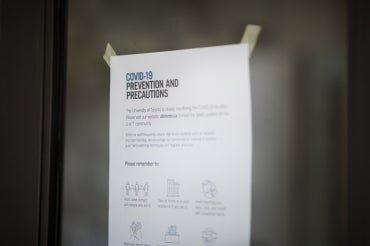 The COVID-19 pandemic spreads like a forest fire, but we have tools to control the burn. 
That's according to a new op-ed by University of Toronto epidemiologists Ashleigh Tuite and David Fisman that was published in the Globe and Mail,
"An epidemic ends when the number of immune people in a population passes a critical threshold (known as the herd immunity threshold)," the researchers from U of T's Dalla Lana School of Public Health write, adding that social distancing and other tools can nevertheless be used to mitigate the disease's impact until a vaccine is developed. 
"It can be helpful to think of the COVID-19 pandemic as a forest fire," they write. "Those infected with COVID-19 are sparks being thrown off and those uninfected are the fuel."
Tuite and Fisman's mathematical modelling studies and the experience of countries such as Italy and Spain highlight the importance of intervening early to save lives. 
"The time to implement wide-scale social distancing is before you have a crisis," the researchers write. "If we wait until our hospitals are overwhelmed to react, we will have squandered our golden time and it will be too late."
UTC