COVID-19: U of T's 'virtual' Three Minute Thesis competition draws a crowd online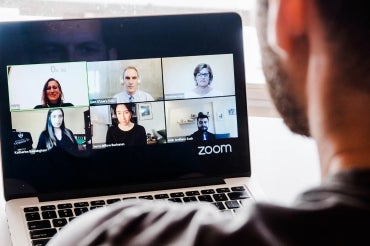 The annual Three Minute Thesis (3MT) competition is a unique opportunity for graduate students to present their research to a panel of non-specialist judges in a compelling and accessible way – in just three minutes.
It's a tall order, and this year things got even more challenging when the competition was moved online due to the COVID-19 pandemic.   
Open to graduate students across Canada, the 3MT competition is divided into three levels: local, provincial and national. The finals of the University of Toronto 3MT competition usually take place at the Isabel Bader Theatre, but Liam O'Leary, graduate programming co-ordinator at the School of Graduate Studies (SGS), knew that wouldn't be possible this year. So, instead of cancelling the event, O'Leary and Paula Karger, a PhD student at U of T's Centre for Comparative Literature and co-host of the 3MT finals, moved the competition online. They postponed the semi-finals by a week, using that time to help grad students prepare. 
"We wanted to do practice sessions," says O'Leary. "What works best for sound? Do presenters have to sit in front of their computers, or can they stand back? We went through all these questions with everybody and, eventually, we got to some solutions. 
"I'm just so impressed with the graduate students. They really wanted to continue. It was a great collaborative effort. Everything that's happening with COVID-19 is really difficult, but it also pushed people to be creative. The graduate students were willing to try something new and so were we – so we just went for it." 
The finals took place on Zoom and Facebook Live on April 2, with more than 400 viewers tuning in to support the 12 U of T finalists. The event also included a special guest appearance from CBC Radio Ideas producers Tom Howell and Nicola Luksic, whose documentary series Ideas from the Trenches showcases the work of PhD students across Canada.  
Amalia Gil from the Faculty of Applied Science & Engineering earned first place in the U of T finals for her presentation "Identifying Distractions in Surgery with Eye-tracking." She will move on to the provincial finals at the University of Windsor, which have been postponed, but O'Leary is hopeful that the success of the U of T finals will encourage other institutions to consider virtual events.  
Second place went to Chris Ahuja from the department of surgery in the Faculty of Medicine while Aaron Cabral from the department of chemistry in the Faculty of Arts & Science took third place.
"At first, I was apprehensive about the change to an online format since I had never presented in this way," says Cabral. "However, SGS did a fantastic job in setting up the event and adapting to the new challenges of video conference presentations. It still felt interactive, as if we were all in the same room, and I found that everything went smoothly. 
"It ended up being a benefit that it was online since we were able to broadcast it to so many people. I even had family members watch and cheer me on from their homes during the finals." 
"We had a great turnout and there were a lot of positive responses," says O'Leary. "People thanked us for putting it on and providing some good news. These incredible scholars and the great research they're doing offer hope for the future."  
Public interest in the event is still going strong. To date, the Facebook livestream of the U of T 3MT finals has received nearly 10,000 views.  
"It makes me really happy to know that thousands of people have now watched the livestream," says Amir Arellano Saab of the department of cell and systems biology in the Faculty of Arts & Science, who was named the people's choice winner for his presentation. "At times during grad school, you start to wonder if what you are doing is relevant to the general public. It is quite reassuring and encouraging to know that many people outside the university would be interested in hearing what I do and what I have to say about it."
O'Leary says future events will likely be offered in a hybrid format, with both an in-person and livestream component. For now, SGS is continuing to move events online, including mindfulness meditation sessions and virtual coffee hours, which can be accessed through the Grad Room website. 
"It's nice to be able to work on something positive that helps with community building," he says. "I think it's so valuable because being a student in these times is challenging. They're still trying to be productive and write and do all the things they do as graduate students, but it's hard. Being able to offer something where they can connect with others is really important right now.
Arts & Science