COVID-19 school closures accelerate education inequities in Ontario: U of T researchers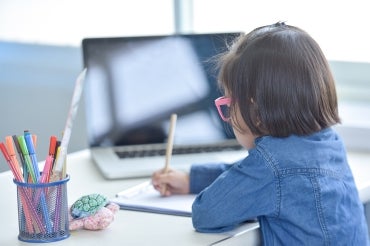 A report on the effect of school closures in Ontario due to COVID-19 suggests that inequities in education are being accelerated, particularly among vulnerable groups. 
The report, prepared for Ontario's Science Advisory Table, says that we can expect lasting negative consequences for students' lifetime earnings and the national economy as a result of education losses due to the pandemic.  
"I think the narrative right now is that kids are resilient – that they will rebound from this and catch up," says Elizabeth Dhuey, a professor in the department of management at the University of Toronto Scarborough and one of the lead authors of the report.  
"What's being lost in the conversation is that the evidence shows that's not necessarily the case – that there are very real consequences to education loss." 
Primary and secondary schools in Ontario have been closed longer than any other province in Canada – 23 weeks and counting since March 14, 2020 – suggesting the long-term effects of education disruption could be felt more here than anywhere else in Canada. 
The report's 11 authors – which also include Lance McCready, an associate professor at the Ontario Institute for Studies in Education, Beate Sander, an associate professor at the Institute for Health Policy, Management and Evaluation (IHPME) in the Dalla Lana School of Public Health, and Karen Borne, an assistant professor at IHPME – say the closure of schools and pivot to in-class to virtual learning has had the biggest impact on vulnerable populations, a group that includes students from lower-socioeconomic backgrounds, racialized children, newcomers to Canada and students with disabilities.
Dhuey says barriers such as not having access to high-speed internet or computers and devices to follow along at school means that some students have simply stopped learning altogether.  
The study's authors add that, because of the loss of access to subsidized meals, school-based health care services, and the social benefits of routine and structure, school closures have also affected students' mental and physical health. 
They recommend implementing educational recovery strategies to stem the effects of the disruption. These include treating schools as an essential service and keeping them open wherever circumstances allow. Dhuey says making schools the last places to close and the first places to reopen would require a stronger commitment to safety practices and accelerated vaccination of all education workers, parents and children. 
Another strategy is to provide additional funding to adapt curriculum, instruction and student supports that target groups most disadvantaged by the pandemic. 
"This might involve individualized or classroom-specific support because some kids might be fine, but others are going to need extra support," says Dhuey, adding that some students may need anywhere from a few months to a full year in order to catch up.  
"The challenge is that it's hard to adapt curriculum quickly or easily."  
The report also outlines the economic costs due to education loss. It's estimated that a month of skill loss from being out of school could result in a one per cent drop in lifetime earnings for students. It's also estimated that education loss due to the pandemic may decrease the national income by 0.5 per cent per year, roughly translating to a $1.6 trillion GDP loss for Canada. 
"Even if you don't have school-age children, or you're looking at this from a purely selfish perspective, as a resident of Ontario you should be very concerned," says Dhuey, who is an expert on the economics of education. 
She says that education loss will impact future labour markets and overall economic growth in Ontario and Canada. "I think many are ignoring this fact because it's hard to measure the long-term consequences of this problem. We tend to think only of the short-term consequences." 
The good news is that there may be ways to alleviate some of the consequences of education loss. 
Dhuey says an emphasis needs to be placed on making sure high school students graduate and receive the education needed for post-secondary studies and employment after graduation. She says a major challenge with school disruption has been keeping high school students engaged and present online. 
"We know the biggest economic predictor is graduating high school," she says, adding that remediating younger students might be easier because they will be in school longer. 
"I think it's possible to make sure high school students get the support they need, but it needs to be discussed and made more of a priority than it is at the moment." 
UTSC