In course on global energy, students welcome special guest: Canada's finance minister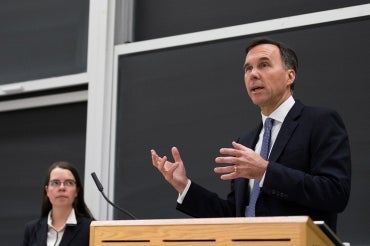 The day after Prime Minister Justin Trudeau unveiled the details of a national climate framework – taxing carbon and offsetting costs to consumers with rebates – a guest was invited to discuss the policy with an engineering class at the University of Toronto. 
Bill Morneau, Canada's finance minister and former head of human resources and technology firm Morneau Shepell, spent more than half an hour speaking with about 30 U of T students in a class on innovation and entrepreneurship in global energy systems. Earlier in the day, he met with U of T President Meric Gertler at Simcoe Hall. 
Among all the challenges facing the country, including an aging workforce, Morneau said curbing pollution to address climate change was one of the most pressing problems. 
"It's a big issue for young people as they look toward the future," he told the group of fourth-year and graduate students. "They see the environment is changing at a pace that is much more rapid than even what we would have expected a few years ago."
The federal "backstop" program puts a price on carbon emissions in provinces and territories where there's no equivalent. The list includes Ontario, New Brunswick, Manitoba and Saskatechewan, home to nearly half the country's population. 
The carbon tax will start next year at $20 per tonne of emissions, rising by $10 each year until it reaches $50 in 2022. It will be levied on fuel producers and distributors, such as Enbridge, but consumers are expected to see higher prices at the pump and heating bills as a result. The government is planning to offset these indirect costs by putting 90 per cent of the tax revenue into people's pockets through a rebate. The leftover 10 per cent will be set aside for sustainability initiatives and retrofitting. 
Morneau told the class that the government felt compelled to act since climate change is already taking its toll through droughts, wildfires and other extreme weather. "Overhanging everything is our environment and the very real, immediate challenge around climate change that we're all facing," he said. 
After a discussion with course instructor and postdoctoral researcher Marina Freire-Gormaly, students had the chance to ask questions.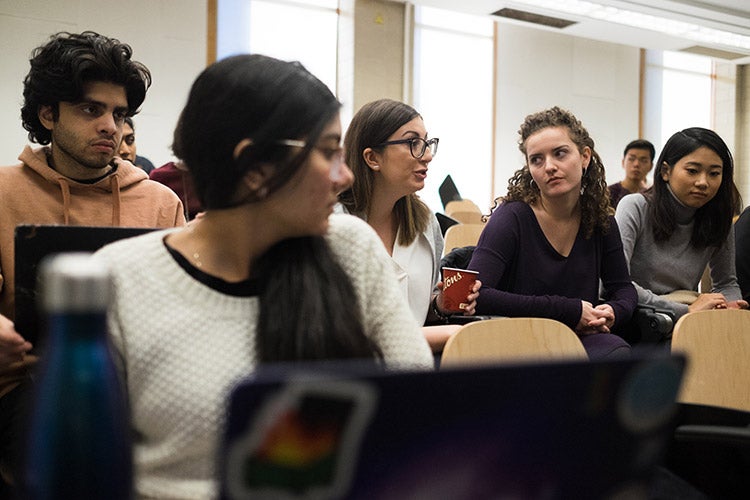 Students in Innovative Technologies and Organizations in Global Energy Systems asked Finance Minister Bill Morneau questions about the national climate change framework (photo by Geoffrey Vendeville)
Olivia Lahaie (above, second from right), in the master of science in sustainability management program at U of T Mississauga, asked about how the government plans to ensure that small and medium-sized businesses remain competitive. Morneau said the 10-per-cent share of tax revenue would help these businesses with their green transition. Citing the example of British Columbia, which has had a carbon tax since 2008, Morneau said that carbon pricing isn't anathema to a strong economy.
May Lim (right), in the same program at U of T Mississauga, said it was a valuable opportunity to hear the finance minister explain the impact of the previous day's policy announcement. "He was inspirational in identifying the issues that the government is trying to solve and the role we can play as Canadian citizens," she said. His visit to campus turned an abstract government policy into something more concrete, she added.
Morneau wasn't the only visitor to the class. Two weeks ago, the students heard from alumnus Tom Rand, a senior adviser on clean tech at MaRS and the managing partner of ArcTern ventures, which invests in startups tackling climate change. This Friday, they expect to welcome Mike Rencheck, CEO of Bruce Power. 
Freire-Gormaly, of the Faculty of Applied Science & Engineering, said it was a "unique experience" having a sitting finance minister come to class. "It gave us a sense of how these new policies came about and what other aspects they considered before implementing the carbon tax," she said.
As he was saying goodbye, Morneau quickly reminded the students of their role in creating a greener future: "Good luck with your studies," he said. "We're counting on you."
UTC