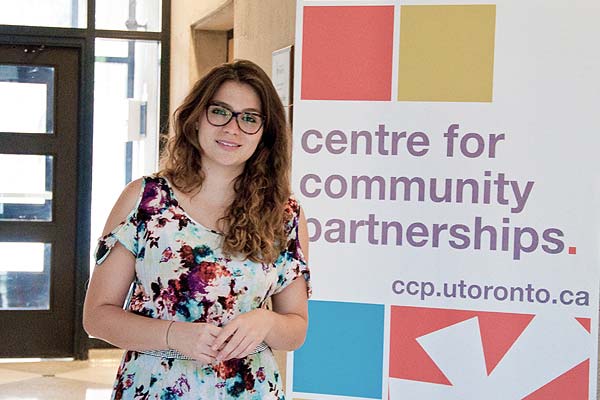 Convocation 2015: meet global community-builder, Mariajosé López Mejía
Equity studies grad putting social justice to work in the Balkans, Belize, Toronto
For Mariajosé López Mejía, who's graduating with a degree in equity studies, working to improve the lives of other people has been a lifelong passion — but until she attended U of T, she didn't realize it could also be her career.
"I always wanted to go to the University of Toronto," said López Mejía. "I thought I wanted to study international relations, and then I read through the equity studies program description and thought, 'This sounds a lot like me.'"
It's not surprising López Mejía recognized herself in the equity studies' mandate, which focuses on social justice in local and global contexts. Growing up in Colombia, López Mejía collected clothes, food and other necessities for natural disaster relief. After moving to Toronto in 2007, she continued her community-building efforts by helping to coordinate intercultural events, raising funds and food for local charities and mentoring newcomers to Canada.
She credits equity studies with teaching her the skills and knowledge necessary to move beyond what she modestly calls "a more superficial level" of community building to instead help create meaningful systemic change.
"Throughout my studies I've explored how a lot of social programs are just patchwork," said López Mejía. "They are not addressing power imbalances. They are not redistributing wealth. And they're not challenging oppressive systems to the core — racism, sexism, homophobia, ableism.
"I still believe frontline services are important," she continued. "You have to make sure there is an emergency network, because people need services now. And as I've come to learn through my studies, shaking these systems will take a lot of time, power and effort."
During her time at U of T, López Mejía, who is also graduating with minors in political science and diaspora and transnational studies, took advantage of many opportunities to expand her studies beyond the classroom, both locally and globally.
She completed a community-engaged learning placement at the Canadian Catholic Organization for Development and Peace, served on the Equity Studies Student Union executive team and was heavily involved with the Centre for Community Partnerships, first as an alternative reading week participant and later as a project leader and work-study student.
(Read more about the Centre for Community Partnerships at U of T)
López Mejía also learned about indigeneity and food sustainability through New College's Belize experiential-learning program. López Mejía, who had studied food sovereignty and security extensively in equity studies, said the program was an ideal complement.
"For me, to go to Belize and meet Indigenous people who produce food for themselves and for fair trade export was the perfect circle," she said. "I've learned it, I've now seen it and I understand the implications."
Belize was not López Mejía's only globe-trotting academic experience; she also studied abroad in Paris, where she learned about prostitution and human trafficking, and in the Balkans, where she studied the history and politics of former Yugoslavia and conducted field research about the role of rape as a tool for ethnic cleansing in the Balkan Wars.
Upon returning to Toronto, she supported local counter-human-trafficking efforts as a research assistant at the FCJ Refugee Centre through New College's independent community-engaged learning seminar. 
These experiences gave López Mejía a body of knowledge that proved very useful for her coursework — and vice versa.
"During community-engaged learning, you bring your studies to the work site, and you bring to your studies what you've learned through your experiences," said López Mejía. "One of my final papers was about human trafficking of Indigenous women and labour trafficking through federally-sponsored migration programs. I didn't learn about that in class — I learned it through my research at FCJ. And my theoretical knowledge gave me a really good platform for my research."
López Mejía said her community-building experiences taught her lessons she could not have learned in the classroom.
"I think community-engaged learning is so important because you need to know yourself in other spheres of life," she said. "Academics are really important, but ultimately we're all going to move on to real life."
For López Mejía, "real life" includes plans to work in social justice and later complete graduate studies in welfare management — in Sweden, if all goes well. And as of this month, she is serving on the youth-oriented sister committee of METRAC's Toronto Safe City Committee, which will work to determine safety changes and initiatives to prevent and reduce violence against women and vulnerable populations in the city. 
López Mejía said her experiences at U of T and beyond have given her hope for the future and affirmed to her that she is on the right career path.
"We need to recognize that inequity does exist and is affecting many of us," said López Mejía. "The more people who work towards changing that, the easier it will be."