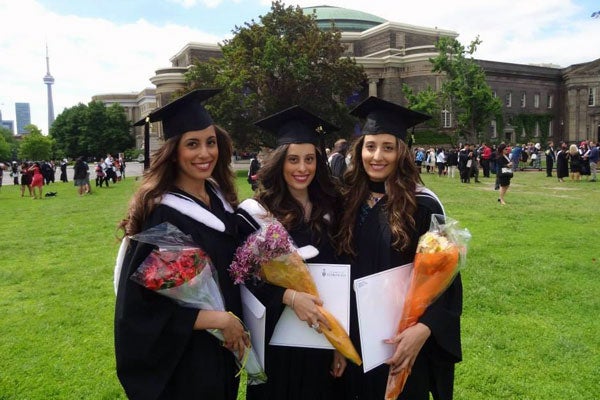 Convocation 2014: Zaazou triplets study, graduate together
UTM students graduate from Concurrent Teacher Education Program
Among this year's crop of University of Toronto Mississauga graduands are  22-year-old triplets Nourhan, Nervana and Nisreen Zaazou.
The sisters graduated together, each with degrees from the Concurrent Teacher Education Program at UTM. Nourhan majored in math and psychology, while Nervana and Nisreen will graduate with double majors in math and chemistry.
Born to Egyptian parents, the Zaazou family lived in Abu Dhabi for several years before moving to Mississauga in 2006, when the sisters were 14 years old.
There was never any question that the trio would become teachers. "I have always wanted to be a teacher, ever since I was a little girl," says Nisreen, who already had her eye on UTM's CTEP program in Grade 11. "I helped my friends with math and chemistry in high school and they really understood the concept by the way I taught it."
"From the very beginning, I knew teaching was the right choice for me, because it was something that I really enjoyed doing," Nourhan says. "My plan was to get into the University of Toronto for my undergraduate degree, and then apply for teacher's college. But then I came across the CTEP program at UTM, and noticed that they offered both degrees (BEd and HBSc) in the subject that I loved most—math."
"What intrigued me about this program is that we get two degrees simultaneously," Nervana adds.
The sisters also liked UTM because of its small size. "I chose UTM because I prefer a smaller campus than bigger one," Nervana says. "Everyone knows one another!"
During their time at UTM, the girls lived at home and poured themselves into their studies. Nervana chose to focus solely on her courses, while Nisreen worked as a TA with the mathematics department, an experience that she says reinforced her love of teaching. Nourhan worked with tutoring agencies, and developed math videos for first-year calculus students with the Department of Mathematics and Computational Sciences .
Staying together was a priority for the trio. "My sisters are my everything! I couldn't have gone through these five years in university without them. I am glad that we all got accepted to the same program. We were worried about that," says Nervana. "I feel like we've become even closer. Since we were in the same program and because we shared similar experiences, we've been able to talk it out with one another."
"Staying together was probably the best decision we've ever made," Nourhan agrees. "I'm glad that I went to the same school as my sisters."
The Zaazous are looking forward to starting their teaching careers; however, more study isn't out of the question. Nourhan, who volunteers with the  Peel Children's Centre, is considering a master's degree in child psychology.
"I love working around children and helping those who are in need," she says, adding that she ultimately hopes to become a child psychologist and work within a school setting.
Nervana plans to add more teachable subjects to her skill set, and is mulling the possibility of teaching abroad.
"We don't really know what the future holds for us three," Nisreen adds. "We may have separate paths and because of our ionic bond between us, we just had to be together in the same university. They are my best friends." 
Blake Eligh is a writer with the University of Toronto Mississauga.