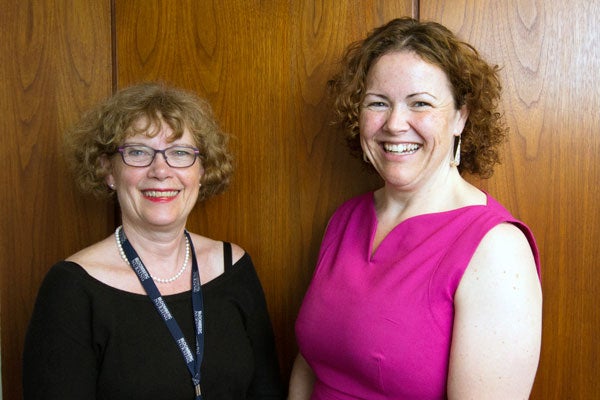 Convocation 2014: Meet Bloomberg Nursing's Deidre Bainbridge
For the University of Toronto's Deidre Bainbridge, it was a long, winding − but ultimately rewarding − road to her Master of Nursing degree.
"I didn't actually choose nursing as a career until I had been a nurse for 10 years," Bainbridge says. 
Despite her early interest in forensic medicine, the abundant employment opportunities for RNs led Bainbridge to a two-year diploma in nursing. She put those skills and knowledge to work as a forensic nurse at the Sexual Assault & Domestic Violence Care Centre at Women's College Hospital. But she didn't stop there.
A volunteer at the Toronto Rape Crisis Centre's 24-hour hotline, Bainbridge also took on a part-time role at the Bay Centre for Birth Control. 
With her professional life focused in the increasingly important and sensitive field of female reproductive health, Bainbridge then began working toward her BScN. And, in 2001, she completed the Primary Health Care Nurse Practitioner Program post-degree certificate. 
After becoming a nurse practitioner, Bainbridge finally "chose" nursing as her career.  She quickly discovered she was in a unique position to examine, diagnose and treat patients. 
More important, Bainbridge says, she had the chance to make an impact in forensic nursing at Women's College Hospital − where she's now spent more than two decades providing care and counsel to vulnerable women.
Forensic nursing is a specialty that involves the provision of care to victims of crime, including sexual and other assaults. It may also involve working with perpetrators of crime deemed not criminally responsible for their actions. Forensic nurses collect and preserve physical evidence, document and photograph injuries and provide witness testimony when needed.
"As a nurse practitioner, I have educated more than 1000 nurses across Ontario on how to examine, test and treat victims/patients of sexual assault" says Bainbridge.
She also provides follow-up care to victims/patients in the six months following the assault – testing and treatment for sexually transmitted infections, support and education, and help managing sleep disturbance and depression as a result of assault.
"We really address the bio-psycho-social needs of the patient/victim," she says.
It's challenging and important work. But it isn't for everyone.
"Bearing witness to the capacity we as human beings have to be violent and cause pain and devastation to others can be profoundly upsetting," Bainbridge says. "There are only a handful of forensic nursing experts in Canada, in part due to being a relatively small area of specialty, and in part due to the nature of work – this work is emotionally difficult, leading to compassion fatigue and burnout."
Bainbridge intends to keep working to advance the field in which Bloomberg Nursing has helped her become a leader, by leading clinical research and writing articles for publication, among other initiatives.
"The Bloomberg Faculty of Nursing at U of T has a solid reputation internationally largely because of the leadership and research scholarship generated by the faculty in women's health, particularly women's mental health."