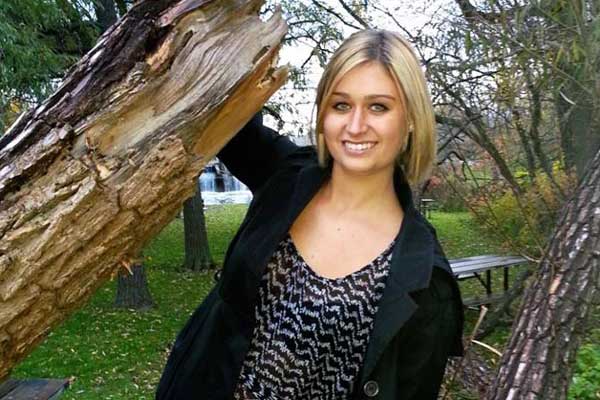 Convocation 2014: hard work, great support help future teacher conquer learning disabilities
"You've got this. Just believe in yourself." Those words, repeated often by her mother, are what buoyed Clarissa Ophelders during her toughest days.
Despite significant challenges, the UTM student graduated last week with an Honours Bachelor of Science in Psychology. The degree is a symbol of victory for the 21-year-old Ophelders, who overcame major obstacles to earn it.
In the third grade, when she still was unable to read, Clarissa was tested for learning issues and diagnosed with an auditory processing difficulty. That diagnosis was a turning point for the Markham, Ont. student.
"I couldn't process the sounds of the words, which meant I couldn't read," she says. Ophelders began using assistive technology at school, including a program that read text aloud, and another that allowed her to dictate her work into a word processing program.
Ophelders credits her mother, Debra Hala-Ophelders, and teacher Mrs. Wieczorek for encouraging her to persevere through her learning difficulties. "My mother knew my potential, and she made sure I reached it," Ophelders says, noting that her mother, also a teacher, would work a full day in her classroom, make dinner, and then sit for hours to help her daughter with homework.
"I wouldn't be at university without her," Ophelders says. "She never gave up on me. She always said, 'You've got this. Just believe in yourself.'"
Ophelders also credits her success to support she received from staff at UTM. Lena Paulo Kushnir, a manager in the Teaching Technology Support Office, helped Clarissa to slowly wean off the assistive technologies she had been using since grade school and learn to work without them.
"It was scary, but Lena constantly made sure I was okay," Ophelders remembers. She's also grateful for support from CTEP program and internship coordinator John Smith, who even came in on a sick day just to check on her. "He would call just to talk to me," Ophelders remembers. "Having that support really helped."
With her first degree completed, Ophelders is now looking forward to a future in education. She has dreamed of teaching since she was in kindergarten, and has her sights set on using her skills within special education programs. Ophelders will complete her concurrent teaching and education program in 2015.
Ophelders is excited to be a positive example to her future students. "When you grow up with a learning disability, kids call you 'stupid' and 'dumb'," she says. "I know that it hurts, because I've been there, too.
"A lot of people are ashamed of having a learning disability—in grade school, I certainly was," Ophelders says. "I want people to know that you can do well."
How does it feel to graduate? "Relief," Clarissa says, laughing. "I'm so proud of myself. There were times I couldn't see the end and I didn't think I would be able to do it. I accomplished something that I set out to do."