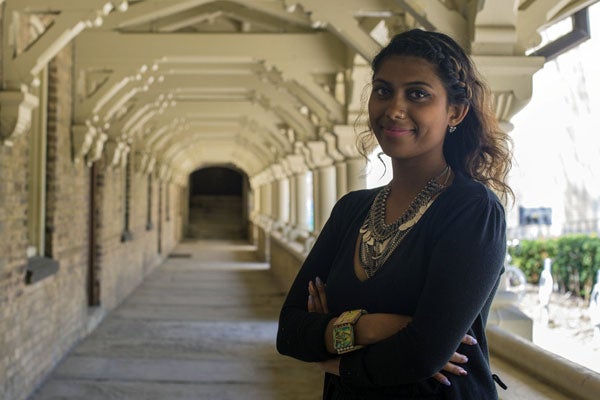 Convocation 2014: celebrating success, looking to the future
More than 4,000 students graduate this week
They spent years studying and researching, put in countless hours volunteering in disadvantaged communities and interning with companies in Canada and around the world – and now they're celebrating.
This week, more than 4,000 students graduate from the University of Toronto and most will return to make their final trek across front campus to storied Convocation Hall: the journey from students to alumni.
"This is a milestone I am very proud of," said Abinaya Balasubramaniam, who receives her Honours BA in women and gender studies and equities studies. "Five years ago I never thought that I would be here, having accomplished the things that I have.
"I started actually believing in myself and realized I could do something important."
From November 17 to 21, the 108-year-old Convocation Hall will witness almost 3,000 graduating students returning to walk across its stage in eight different ceremonies to receive their degrees. (Read about entrepreneur and astronaut for hire Aaron Persad.)
Balasubramaniam didn't have to travel far to attend; she's now working on a master's degree in women and gender studies at U of T – a highly competitive program that accepts only a handful of students a year. But throughout her undergrad years, Balasubramaniam's focus on international development, women's health organizations and the empowerment of women through education took her to internships in Kenya, at the United Nations in New York and to Namibia. There, she worked closely with mothers who had tested positive for HIV and been forcibly and coercively sterilized without their consent – now recognized by the UN as a violation of human rights.
"Namibia was the internship that I feel I got the most out of, because I was older and got to fully appreciate what was happening around me," said Balasubramaniam. "It was a very humbling experience where I got to balance theory with practice, and there was that bond of sisterhood between all the volunteers. We were passionate about the work we were doing and supported each other in making a difference.
"That was the common thread in all of my internships, no matter where I worked I felt connected to the work and the people I worked with through passion and knowing there was purpose in the work we were doing."
More than two dozen student ushers have been hired to help welcome the more than 9,400 spectators expected at Con Hall and Convocation Plaza throughout the week. Ceremonies will be marked with the traditional pageantry and gravitas – from the colourful garb of the academic procession, to the exchange in Latin between the chancellor and the university president that opens each gathering. And two honorary degrees will be awarded. Renowned musician Jeanne Lamon, who recently concluded a 33-year tenure as music director of Toronto's baroque orchestra Tafelmusik, will be recognized November 18, while Canadian-born physician Sir John Irving Bell will be recognized November 19 for his contributions as one of the world's leading researchers in genetics and immunology.
The white marquee on the front lawn known as Convocation Plaza – an innovation introduced in recent years – will once again provide a place for friends and family to mingle and pose for photographs with the university's newest alumni. And organizers will be streaming photos and congratulations on social media from family, friends and students who use #UofTgrad14.
"To all those graduating in Fall Convocation 2014 – congratulations on earning your degrees, after years of hard work," said Professor Meric Gertler, president of the university. "As the University community hunkers down for exams – and winter – you are heading off towards the next big phase in your lives, to apply your learning and creativity in every imaginable field and walk of life, and to make the world a better place.  
"That's what higher education, and especially a U of T education, is about."
For Stanley Fedun, who becomes a double alumnus this week – graduating with his MA after completing his BA in political science – convocation offers a chance to reflect on a wide range of co-curricular experiences, such as working part-time at the Ontario Legislature or rowing with U of T's crew team, as well as academic highlights.
"During my third year of undergraduate studies I had the awesome opportunity of participating in an ROP or research opportunity programme with Professor Aurel Braun," said Fedun (pictured right).
"We were researching frozen conflicts in Eastern Europe, and I was fascinated by the subject matter. Professor Braun ultimately became my academic mentor and I regularly keep in touch with him today."
Fedun's interest in Europe and Asia led to the creation of his podcast, The Eurasia Show. He now works for the Leader of the Official Opposition at the Ontario Legislature; by night he runs Osten, a small ("but mighty," he says) political risk consultancy that he started up this year.
"I feel blessed to have this opportunity and to be immersed on a daily basis in a myriad of activities that relate directly to what I studied," said Fedun.
Taking advantage of all the opportunities on campus as well as off campus was an important part of the undergrad experience, Balasubramaniam said.
"There were times at U of T where I took my studies very seriously, and there were times where I just needed a break. Looking back, one of the things I am most proud of is joining on-campus groups as a way to relieve stress."
Hailey Parliament is a writer with U of T News.