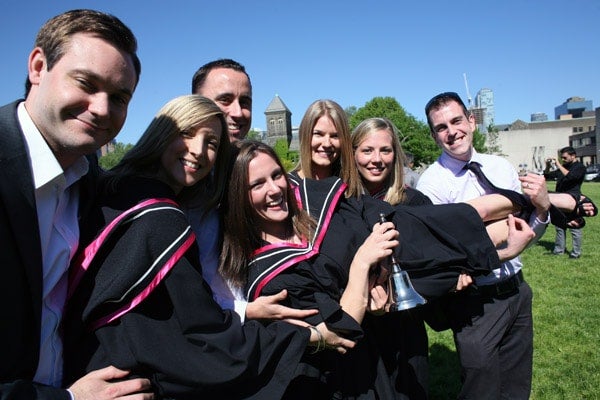 Convocation 2013: have degree, will work
After an intensive four years working for her University of Toronto mechanical engineering degree, Prachy Mohan deserves a break. Instead, she's decided to head straight into her next adventure – employment.
"I found my opportunity through the You're Next Career Fair held by the Engineering Society," says Mohan, who will be working as a consultant with CGI, an international business consulting firm. "Part of why I was hired was because U of T engineering teaches you how to learn quickly and work through complex problems."
For Mohan, (pictured below) U of T offered opportunities to get involved in the community at large, helping her create relationships which served as a perfect springboard into her professional life. 
One of her initiatives was a mentorship program called Skule Sisters, which pairs female U of T and high school students to provide insights into what engineering is like.
Although U of T graduates are entering an uncertain economy and job market, their degrees remain an advantage.
"Employers are looking for university graduates," says Heather Kelly, director of the Centre for Student Career Exploration and Education at U of T, which helps thousands of students and recent graduates find employment each year. "Not only do U of T graduates in all degrees have the discipline-specific skills they learn in their classes, they have an ability to learn, and to analyze information and communicate it effectively – transferable skills for the professional world."
Despite a lingering public perception that university graduates struggle to find employment upon graduation, job prospects are looking up for new graduates.
According to a report issued by Statistics Canada on May 14, 2013, university graduates have the lowest unemployment rate among 25 to 29-year-olds compared to any other educational background. In this study, unemployment rates in 2012 for university graduates stood at 5.8% nationally, compared with 6.2% for college graduates and 8.8% for high school graduates. (Read the full report.) 
University graduates also enjoy increased earnings compared with other educational attainment. According to a 2011 report by the Association of Universities and Colleges of Canada, an individual bachelor's degree from a Canadian university has an accumulated income advantage over high school graduates of $ 1.32 million. The same report also showed that university graduates are far less likely to experience long periods of low income. (Read the full report.)
But the job market isn't always the next step following an undergraduate degree. Some decide to continue their education with advanced degrees. Alex Pernin is graduating in June with a geology degree and returning to U of T in August for an industry-based Master of Science.
Pernin will be travelling to New Mexico for a summer internship doing geologic work at a copper mine with Freeport McMoRan Copper & Gold. For his Masters, he'll be doing research based on gold occurrences in Quebec for Ontario-based company Northern Superior Resources.
"My degree trained me for the work I'm doing with both those companies," said Pernin. "Not only on the theoretical side, but using and understanding tools and software that are standard in the industry."
Lulu Yu (pictured right) is another student who is looking forward to putting her skills into practice. Graduating with her Master of Landscape Architecture, Yu will be moving to Vancouver to take a position with the prestigious design firm PFS Studio.
Yu says that U of T showed her the comprehensive and transdisciplinary aspects of her field, and how it combines humanity, culture, technology, society and ecology. By training in different studios during her degree, Yu was able to connect with designers, the public and even government, to understand the process of a project.
"It will be fun to work with great designers and really get into more projects in different stages, such as conceptual design, design development, or construction drawings," says Yu. "If everything goes well, I'm looking forward to getting licensed in the near future!"
For students such as Renee Galati, (pictured left) graduation in June means re-entering the work world. Galati left her job as a public relations assistant with Hermès Canada to do a two-year MBA with the Rotman School of Management.
Her degree included four months with the ESSEC Business School in Paris to study luxury brand management.
"I'm passionate about retail and my degree will 100 per cent help me," says Galati, who points out that her courses allowed her to explore essential business subjects such as finance and accounting.
Galati is planning to join Nike headquarters in Portland in the North American merchandising division, where she previously did a summer internship. She has two pieces of advice for fellow graduates.
"First do what you love and look everywhere for opportunities to get into field. Second, reach out to your network of friends and colleagues. You never know when something will click!"
(Click on the blue pin points below to meet more of U of T's global grads. Use the "+" sign to zoom in on areas, click and drag your mouse to move the map left or right, or click here to view in a larger window. Know another 2013 grad whose degree is taking them on to international opportunities? Share their story on U of T's Facebook or email at uoftnews@utoronto.ca.)

View U of T 2013 grads going global in a larger map