Connecting across borders: U of T commerce students explore Latin America's financial hub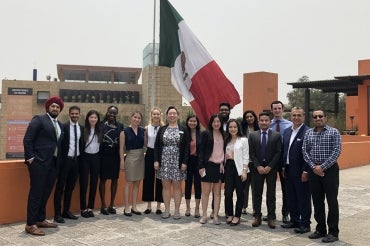 Twelve Rotman Commerce students in the University of Toronto's Faculty of Arts & Science took part in an experiential learning opportunity in Mexico City to gain an on-the-ground perspective of the Mexican market and economy – the first experience of its kind for the undergraduate program.
Developed collaboratively with the Monterrey Institute of Technology and Higher Education (ITESM) in Mexico City, the international study tour in the spring gave students the opportunity to learn about the key industries, trade relationships and business culture of one of Canada's most significant trading partners.
"We were looking for ways to differentiate the types of international experiences available to our students to reduce barriers to participation and increase international engagement," said Lesley Mak, associate director, academic program services at Rotman Commerce.
With Rotman Commerce having previously engaged with ITESM, including hosting students from the institute for an international roundtable event after the Puebla earthquake in 2017, Mexico City was the perfect place for this experience.
"Our students were intrigued by Mexico City's economy and history," said Tricia Patel, an academic adviser at Rotman Commerce. "They were able to learn about global business strategy and social innovation. ITESM emphasized a strong entrepreneurial culture and sense of social responsibility as key to doing business in Mexico." 
Alongside a cohort of undergraduate business students from ITESM, Rotman Commerce students attended lectures, visited international companies, banks and government offices and participated in activities to learn about the history and culture of the region.
"It was great to see many of Mexico City's financial centres," said recent Innis College grad Ibraheem Aziz, who completed a Rotman Commerce management specialist and minor in economics in June.
"Mexico City is the financial hub of Latin America. We visited and toured the Mexican Stock Exchange and Central Bank of Mexico, two institutions that play an instrumental role in the regional economy through investment and trade."
For many students, the trip was the first time they had the chance to take part in an intensive international learning experience to complement their academic work.
"The trip was an opportunity to apply the tools that we had learned in the classroom to a real-life setting in a completely foreign context. Not only that, it forced us to be critical, open-minded and combine our skills to make the most of the trip," said Eri Kimura Meguro, a fourth-year New College student who is double majoring in Rotman Commerce's management specialist and international relations with a minor in economics.
And for Meguro – who hails from Mexico City – the trip was also a homecoming. "I was so excited to show everyone around the city and share the facts or history I had learned over my lifetime. I was also looking forward to being able to see my home through my friends' eyes and represent U of T and Rotman Commerce in Mexico City."  
The experience also allowed students to deepen intercultural learning, communication and interpersonal skills to build connections with other students and industry professionals in Canada and abroad.
"The bonding that took place between the Rotman Commerce students and staff during the trip was so valuable," said Brenna Hamel, a fourth-year University College student in Rotman Commerce with a specialist in public accounting.
"I feel like this trip enhanced my student experience, my personal and professional networks, and my relationships with our academic advisers. I would 100 per cent recommend this experience to other students."
Student interest in the study tour was incredible, Patel said. "We received 111 applications for 12 spots. The candidate pool was very strong with many candidates whose interests in the region were strongly aligned with their personal, professional and academic goals."
For Rotman Commerce, the trip was all about giving students access to valuable insights and skills that would serve them well as business students and global citizens.
"Rotman Commerce is a global community," said Patel. "The exposure to diverse perspectives that challenge the status quo will no doubt contribute to our students' success as strong and innovative leaders who are equipped to connect across borders and address global issues.
"Our students have returned with a tremendous sense of self-awareness and purpose, embracing an expansive definition of community that is global in scope."
Faculty of Arts & Science