Field hockey was a major part of Julia Costanzo's life until a concussion put an abrupt end to her career on the pitch. So she started writing and took up cross-country running at U of T Mississauga (photo by Drew Lesiuczok)
With less than a minute left on the clock during their pre-season game against Calgary, Julia Costanzo, captain of the Varsity Blues field hockey team, made a dash for the loose ball in an effort to gain her team a much-needed edge. She got the ball first. It was on her stick. Then, suddenly, Costanzo was on the ground. 
She had taken an elbow to the head.
Her memory of that moment is unclear. She recalls hearing her neck crack and being afraid to move lest she injure herself further. The play ended, her coach and therapist were on the field at her side.
"I remember I got up," Costanzo says. At the bench, she tried to pretend she was OK. She had suffered a three-month long concussion at the end of the previous season and knew if they thought she was concussed, she'd be "done for a while."
But there was no hiding from the headache, dizziness and balance issues. Costanzo knew she had a concussion.
It wouldn't be until the end of the season that she would accept the devastating truth – she would never play field hockey again.
Julia Costanzo had been playing field hockey competitively since Grade 9 and applied to U of T, in part, because of its field hockey team.
Field hockey was a significant part of Costanzo's life. She'd played competitively since Grade 9, competing in the Ontario Summer Games in 2012 and on the provincial team the following summer. She carved out time to attend practices, built a social network around the sport and deliberately applied to a Canadian university with a strong field hockey team.
Costanzo says she felt her most confident going into her fourth season with the Varsity Blues. It was what the previous years had been building toward. For months after the fateful accident, she told herself she was going to go back on the field, that tomorrow she would wake up without a headache.
"Toward the end of the semester I started to realize there were major problems," Costanzo says.
In early January she went in for a routine check-in with the sport doctor. That's when Costanzo was told she would never play again. 
"In that moment, it was real," she says.
Bereft of her varsity career, Costanzo turned her attention and energy to writing and, later, running.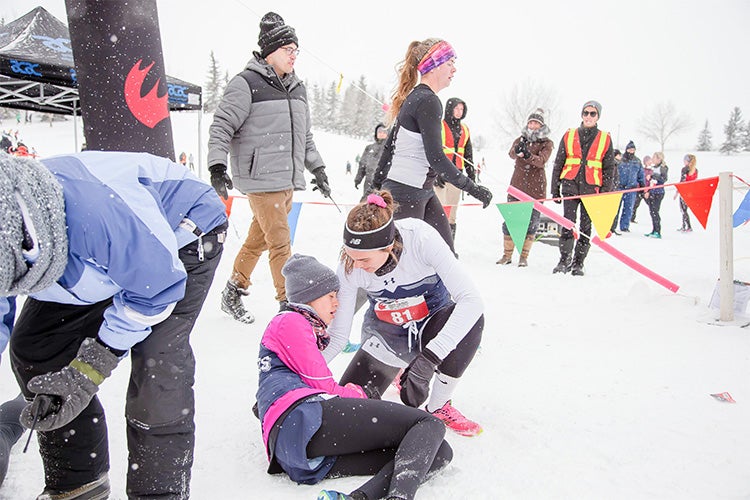 Julia Costanzo helps a teammate at the finish line of a cross-country race in Grande Prairie, Alta. (photo courtesy of Julia Costanzo)
Over the winter she wrote about her experiences as part of a professional writing course, sharing what she says she needed to hear from someone else when she was suffering.
"It was good for me to work through those things and articulate what the moments meant to me," Costanzo says.
The process of writing and sharing was the "most amazing experience," according to Costanzo, who explains she had lost her team and her community downtown, but she found herself in a collaborative environment with her classmates at U of T Mississauga.
"That semester, my professors and fellow students stepped in and became community for me," she says. "Looking back, it's exactly what I needed."
In the spring of 2013, Costanzo published her book, My Brain Hurts, which chronicles her journey toward learning she would never play field hockey again.
By the summer, Costanzo was feeling better and "eager to do something," so she took up running, one of the few activities she was permitted to enjoy. Missing the camaraderie of a team, she decided to try out for the U of T Mississauga cross-country team. After a mere summer of training, she made the mid-level team.
The team won their first invitational race, which proved to be a turning point for Costanzo, whose competitive spirit was rekindled.
"I was getting another varsity experience," Costanzo says. "I never thought I'd feel that again."
She went on to compete in both the provincials, where she medalled, and nationals.
Costanzo says she didn't get the varsity ending she had anticipated – that last, celebratory game. Instead, her last field hockey moment saw her "scraped off the field with a major injury." Cross-country, however, gave her the opportunity to finish her university athletic career with a special moment, holding an exhausted teammate at the finish line during a blistering cold day in Grande Prairie, Alta.
That second chance, she says, was even better than expected.
Satisfied with how her varsity career ultimately ended, Costanzo looks on the bright side. She got to compete at the intercollegiate level in two sports, won medals at both the provincial and nationals, got to play for two teams, and, in the end, donned a shirt with the U of T Mississauga logo while competing. That last part, she says, was particularly special.
Costanzo says she still struggles, explaining many don't understand what it's like to not only be concussed, but to also be an athlete. The two combined, she says, is a "unique and singular experience."