U of T alumnus Jason Ho says the Rotman School of Management's finance research and training lab gave him a leg up when he was searching for a job on Bay Street (photo courtesy of Rotman School of Management)
Jason Ho was able to jumpstart his actual career in finance thanks to simulated experiences he received at the University of Toronto's Rotman School of Management.
In addition to courses, internships and networking, Ho says the BMO Financial Group Finance Research and Trading Lab's (FRT-Lab) hands-on simulations gave him a competitive advantage when it came to landing his job at a big bank.
"The real world is very different from a classroom setting – what we learn in the lab is very representative of what you actually see in the industry," says Ho, who began his role as a data scientist at RBC Capital Markets in July after graduating as valedictorian from Rotman's master of financial risk management program.
He adds that he became well-versed in using the lab's Rotman Interactive Trader Market Simulator and Rotman Portfolio Manager through two courses – a financial trading strategy course in his undergraduate Rotman Commerce program, and a financial risk management course during his master's degree.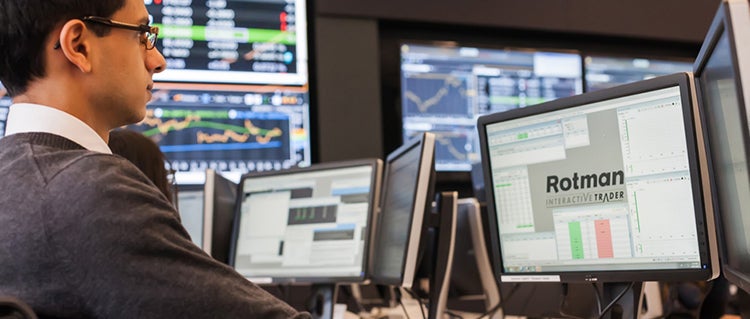 The BMO Financial Group Finance Research and Trading Lab provides students with hands-on simulations (photo courtesy of Rotman School of Management)
Both courses were taught by Craig Geoffrey, academic co-director of the trading lab and an assistant professor of finance in the teaching stream.
"Simulation-based learning in finance ensures students know what they are doing when working with real markets – they become robust decision-makers," Geoffrey says. 
"What they are confronting and learning in the classroom is what they will be faced with on the job."
Founded in 1999 by Tom McCurdy, academic co-director and a professor of finance, the trading lab has evolved over the years from an information portal to a dynamic learning centre. Its focus is on developing products that integrate research and teaching with practice, such as the market simulator.
The lab's capabilities for simulation-based learning now have a global reach – more than 60 top universities and companies around the world use the simulator, as well as the decision cases and investment management platform, to train students and new hires.
"At Rotman, the lab is much more than our simulation-based learning products – it provides resources for research, teaching and learning for the whole school," says McCurdy, noting that the lab's wealth of data reaches well beyond the finance curriculum.
Since March 2020, students have connected remotely to the lab's resources, including the portfolio of simulation-based learning decision cases. The technology is still accessible 24-7 for students and faculty – just like when the lab's 70 workstations and industry-standard tools were open for drop-in sessions before the pandemic.
"Enabling our resources to be available for both in-person and remote users is paramount to ensure a high level of engagement and support for students, faculty and beyond," says Bachir Chehab, the lab's associate director.
For Ilya Kudzelka, the trading lab was one of the reasons he chose to pursue his master of finance degree at Rotman.
"Getting exposure to how things actually work on the trading floor is incredible, and you still feel the competitive energy even online," Kudzelka says. 
McCurdy's course on forecasting risk and opportunities, for example, asks students to complete 10 decision cases in portfolio management, risk management, investment strategy and trading. 
"Everything is so hands-on, and that's what gives us an edge compared to other candidates," says Kathrine Dominguez, who previously worked in accounting and operations after completing her CPA and CFA designations.
By the time she finished McCurdy's course, Dominguez says she felt empowered to pursue a new career in finance after graduation – perhaps in sales and trading or investment banking.
MBA student Preyas Patel says his participation in two Rotman International Trading Competitions gave him crucial exposure to the competitive world of finance.
With prior investment and risk management experience in Mumbai, Patel says he wanted to understand the theory behind his work and apply more innovative approaches. "The competitions and the financial trading course helped me immensely," says Patel, who, earlier this year, joined BMO Financial Group's corporate treasury team as a senior analyst in corporate funding.
There are more opportunities to come.
Next year, Rotman will expand the trading competition to the Middle East. In partnership with HSBC Middle East, the four-month learning experience will focus on environmental and sustainable practices when making financial decisions. Participants will use environmental, social and governance (ESG) ratings as a guiding principle when developing and testing their strategies using the market simulator and portfolio manager.
"Our goal is to create a legacy in the future of sustainable finance by developing advanced skills in sustainability in the next generation of leaders," Chehab says.