Competitive edge: U of T alumnus draws on data to help Canada's athletes succeed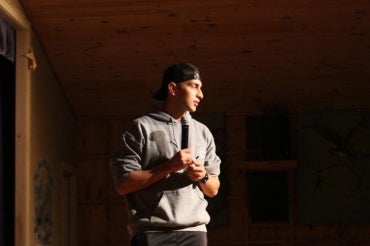 Working at a bank might seem like an odd career path for University of Toronto alumnus Yahya Ali given his kinesiology degree – but his role has more to do with maximizing athletes' physical performance than it does with helping clients realize financial success.
Ali, who graduated with a bachelor's degree from U of T's Faculty of Kinesiology & Physical Education (KPE) in 2019, works as a sports analyst for Canadian Tire Bank – an opportunity sprung out of a collaboration between the bank and Own the Podium (OTP), a non-profit organization that prioritizes and determines investment strategies for national sport organizations in an effort to deliver more Olympic and Paralympic medals for Canada. 
"I work on a team that provides advanced sports analytics to Canadian athletes to support them at their competitions," says Ali. "The support primarily focuses on collecting, cleaning and analyzing performance data such as speed, times and scores, among other things."
Through analysis of the data, coaches and athletes can identify where they can improve or how far ahead they are of their competition. 
"For example, for bobsleigh we not only analyze the final times but the individual intermediate times, which are like checkpoints as the athlete goes down the track," says Ali. "This information is then presented in a simple visualization to the coaches and athletes, so they can see where they did better than their competition or where on the track they need to improve to surpass the competition."  
Ali says he first fell in love with sport analytics after taking a course with Tim Taha, a KPE associate professor, teaching stream, of elite athlete training, and working on a supervised research project on how soccer teams' style of play influences their success in World Cups.
After graduating, Ali went on to do his master's degree in the same subject at Loughborough University in the UK. There, he completed an internship with a startup called Iterpro, which developed a software that helps sports organizations make quicker and more accurate decisions with data on both athlete performance and business viability. He also worked as an opposition scout and analyst for U.S. college soccer teams, providing scouting reports to various universities, including key players' weaknesses and style of play. 
He started with Canadian Tire Bank last fall.  
"I really enjoy the process of developing and implementing new metrics that the coaches and athletes can use to gain a competitive advantage," says Ali. "I love being part of a team that helps Canadian athletes become world champions."
Ali says his kinesiology degree helped him prepare for his current role in a variety of ways – most obviously by imparting knowledge about the human body and what allows athletes to perform at their optimal level.
"For example, we analyze athletes' VO2max – a measure for aerobic fitness – for various sports. My peers who did not study kinesiology only view this metric as a number, but I know what VO2max shows and doesn't show, its limitations and how it should be interpreted.
"I can provide a rationale or a scientific explanation as to why a particular athlete may have had a change in their VO2max." 
 
Ali says his kinesiology degree also honed his ability to solve problems, juggle multiple projects and work effectively as part of a team. 
He recently shared his career trajectory with kinesiology students at the BIPOC career café organized by KINections, an initiative of KPE's registrar's office that's designed to help students connect with each other and get involved beyond the classroom. The program is sponsored by U of T affinity partners Manulife, TD Insurance and MBNA.
"Being in kinesiology meant there were many potential avenues to pursue," says Ali. "I found myself constantly changing what I wanted to do. What made the process easier was talking to alumni, especially BIPOC alumni, whose advice helped me think outside the box and use my KIN background in a creative way as a foundation for a career that is not in the health industry.
"I wanted to pass on my experience and share some of the advice that I got to future graduates of kinesiology."
Here are a few of Ali's tips for students graduating from KPE (or any faculty):
It's alright if you don't know yet what you want to do after you graduate. That means you'll have more doors to open. 
Volunteer or, if you can, do a placement with professionals or organizations in careers that you are considering. This will give you some insight into what an average day in that job looks like.
Have informal coffee chats with people whose jobs sounds interesting to you. Ask them about how they got to do what they do? What their job entails? What they like or dislike about it?
 "Reaching out to professionals may seem intimidating," says Ali. "But many are willing to have conversations and former KIN students generally love to connect with current KIN students."
KPE