Through her work at Trillium Health Partners, alumna Reem El-Ajou is back at U of T Mississauga to help support a university-hosted COVID-19 vaccine clinic (photo by Nick Iwanyshyn)
Reem El-Ajou graduated from the University of Toronto last year – just as COVID-19 was gathering steam. Now, she's back on campus working to help bring the pandemic to an end.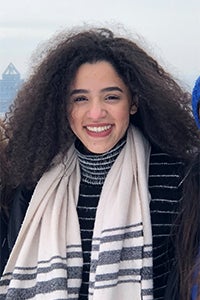 A project analyst with Trillium Health Partners (THP), El-Ajou is supporting the operations of
a U of T Mississauga-hosted vaccine clinic
.
Working with the vaccine leadership team, she monitors the progress of plans and projects – and pitches in to troubleshoot challenges when they arise. That includes ensuring there's enough furniture and hardware available, and that IT concerns are addressed. She also helps the clinic meet accessibility needs of visitors – including those who might require more privacy during a vaccination.
"There are a lot of moving parts," says El-Ajou, adding that every day presents new opportunities to contribute. "It's a fast-paced environment."
El-Ajou, who grew up in Jordan, originally applied to U of T Mississauga's commerce program, but a passion for writing and digital work drew her to the Communication, Culture & Information Technology (CCIT) program, where she studied digital enterprise management (DEM) and professional writing. Students enrolled in the program gain experience with e-commerce strategies, communications, project management and web design.
In her final semester, El-Ajou connected with THP at a university job fair. The local hospital network brought the then-student aboard to provide IT support during the implementation of new health management software. That experience soon led to another role: supporting a COVID-19 vaccination clinic located within the hospital system.
By early 2021, a new and urgent initiative was in the works. THP had partnered with Peel Public Health and U of T Mississauga to launch the first mass public vaccination clinic in the Region of Peel.
THP tapped El-Ajou to help shepherd the U of T Mississauga-based clinic, which launched on March 1, through the setup and operational phases.
Reem El-Ajou's duties include tracking and updating the progress of the vaccine clinic's plans (photo by Nick Iwanyshyn)
El-Ajou puts in long days at the clinic. But she says she thrives on the fast-paced environment and looks forward to responding to whatever the day throws at her, from new directives from the Ontario Ministry of Health to requests for IT support.
She adds that her undergraduate studies provided her with a solid foundation of skills that she uses in the clinic every day.
"I benefited greatly from the DEM program, which gave me a bird's eye view of how different workstreams come together and impact each other," she says.
"DEM taught me to get the complete picture. When you apply things from a project management implementation perspective, that helps to make better decisions and form better opinions.
"The DEM program opens up so many different doors. You have the freedom to do a lot with this degree and go wherever the world takes you. This training has allowed me to work in an industry that I never thought I would be working in. But I have realized that it really does feel like it's where I'm meant to be."
Reem El-Ajou says U of T Mississauga's Communication, Culture & Information Technology program provided her with foundational skills that opened doors in her career (photo courtesy of Reem El-Ajou)
Despite her busy schedule, El-Ajou says she always keeps her eye on the human impact of her work. Since its launch, the clinic has delivered more than 100,000 vaccinations to protect residents in Peel Region.
"You hear comments from patients about the vaccine – or hoping to see their nieces and nephews in person or get to hug their parents again," she says. "For them, 34 to 40 minutes in the clinic can change their entire life.
"I hope to always end up in a position where I can see the impact of the work I'm doing on the community. Giving back to the community and helping other people is one of the most important things for me."
 El-Ajou says she is happy to be back on campus, spotting a few familiar, albeit masked, faces when she takes breaks in The Meeting Place.
"I loved being a student here. I had amazing experiences," she says. "It's like I've come full circle."