Christopher Petrakos, a historian at U of T Mississauga, examines the lighter side of life in rugged frontier settlements of the early Klondike (photo courtesy Canada. Dept. of Interior / Library and Archives Canada / PA-044919)
It's hard to imagine that the hardscrabble days of the Klondike Gold Rush gave anyone much to smile about, let alone laugh. But one University of Toronto historian has found that humour in fact played an important role in helping people weather tough times on the Yukon-Alaska frontier.
A new study by Christopher Petrakos, a historian and assistant professor, teaching stream, at U of T Mississauga, examines what humour reveals about social dynamics. Drawing on travel accounts from the period, Petrakos discovered the lighter side of life in the small, rugged frontier settlements in the decade leading up to the gold rush in the late 1890s.
"Humour is a defining theme that runs through virtually all of the journals and letters of early travellers," says Petrakos. "They are absolutely meant to be funny."
From accounts of everyday jokes and pranks to ribald saloon skits lampooning local figures, the stories show how humour helped create and solidify social bonds in a place still unbound by social conventions of cities to the south.
"Humour and laughter exist in so many variations, which both collapse and sustain our social hierarchies," says Petrakos. "They were in uncharted territory and there weren't traditional ways to recognize those hierarchies."
For clues about the social use of humour, Petrakos looked to the writings of travellers like surveyor and government official William Ogilvie, who wrote that "jokes on one another, both individually and collectively, was a source of much amusement." Ogilvie recounts seasoned miners pulling the leg of newcomers with tall tales of mosquitos strong enough to kill a bear or dog, or carry off a man. Ogilvie notes that the joke draws a line between outsiders, who behaved according to the social, economic and religious conventions of city life, and insiders like the miners who were "accustomed to the trials and tribulations of a difficult frontier's living."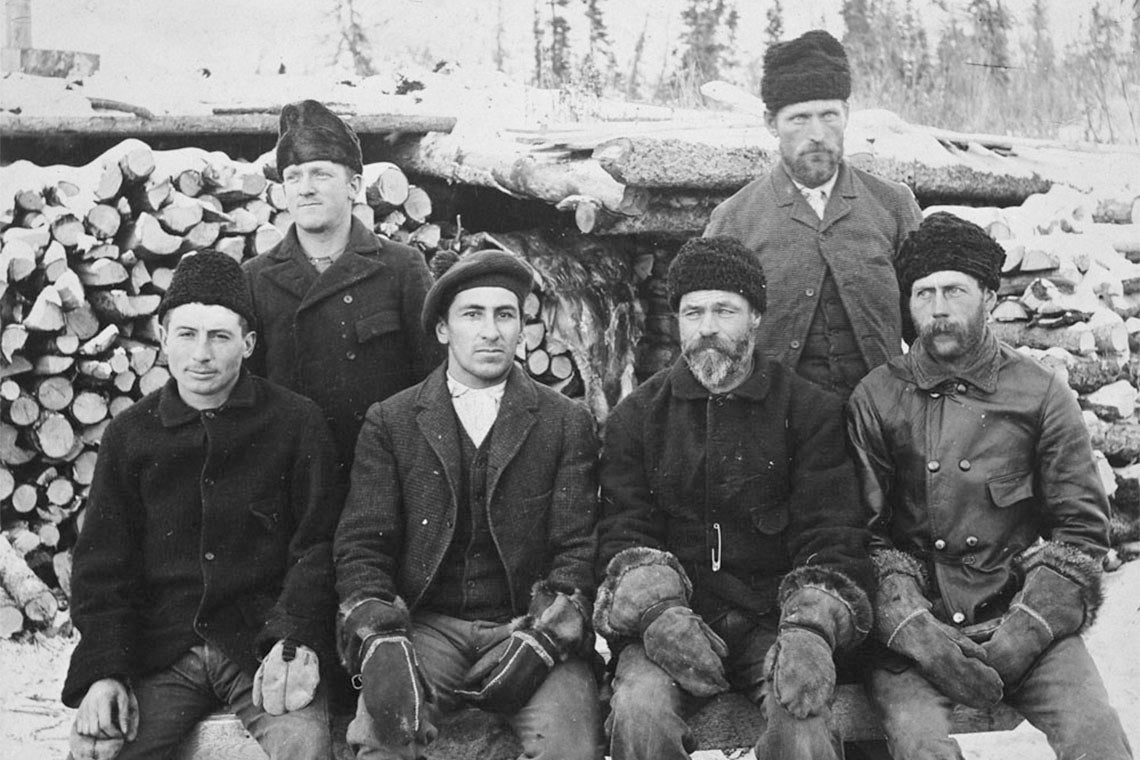 William Ogilvie's party at winter quarters near the Alaska-Canada boundary line, October, 1895 (William Ogilvie/Library and Archives Canada/C-074924)
Pranks were another source of fun.
"People had free time, and pranks were a way to pass the hours," Petrakos says. Reverend R.J. Bowen, one of the first Anglican missionaries in the area, tells the story of his hazing by miners who weren't sure what to make of the young minister. They stopped up his stovepipe and waited until the young minister stumbled outside in a cloud of smoke. Bowen's good-natured reaction helped to cement his place in the community and create an important connection with his "fellow jokers" that was necessary to his religious work and personal survival. In his memoir, Bowen writes that "men are developed, they either go under or develop sufficiently to bear the strain of ridicule."
Petrakos notes that humour also had a social downside.
"Most people conceive of laughter and humour as bringing people together, but it also has the potential to sustain hierarchies," he says, noting that his research revealed many instances where humour served to exclude groups along racial and gender lines. "When gold is discovered, 100,000 people flock to the region and you see the recreation of those colonial relationships between white men, Indigenous people and women," he says.
Petrakos' study, "Humor and Social Boundary Making on the Alaska-Yukon Border, 1886-1896," will be published in a forthcoming edition of Studies in American Humor.