Climate change slows reduction of methylmercury levels in Arctic: U of T researchers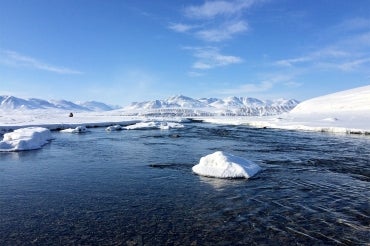 Climate change may be slowing the reduction of methylmercury – a dangerous organic neurotoxin created by microbes that metabolize mercury – in Arctic waters despite a global movement to reduce industrial mercury emissions.
That is among the findings of Igor Lehnherr and his research team at the University of Toronto after assessing the build-up of methylmercury in Lake Hazen, one of Canada's northernmost lakes.
The study is published in the journal Environmental Science & Technology.
"Mercury pollution has gone down in the atmosphere," says Lehnherr, an assistant professor of geography at U of T Mississauga. "We're doing things to tackle it, but climate change is throwing things for a loop [because] it can actually undo some of the benefits from emission reductions."
Methylmercury levels rise only indirectly from human activity. Burning fossil fuels, mining and other industrial processes release unmethylated mercury into the atmosphere. As the mercury settles into aquatic ecosystems, certain types of microbes metabolize it to form the much more dangerous methylmercury.
A "persistent organic pollutant," Methylmercury becomes more concentrated as it moves up the food chain – from bacteria to fish, predators and people. It affects the nervous system and can also cause cardiovascular damage. The toxin is especially dangerous for pregnant women and for fetuses, babies and young children whose nervous systems are still developing. 
While the area where the U of T team collected samples is not close to any northern communities, Lehnherr says the work is relevant for Indigenous people who hunt and fish for food.
"What we're learning is not constrained to that location," he says. "We put a lot of import on understanding mechanisms that affect methylmercury, so we can apply what we learn in one place somewhere else."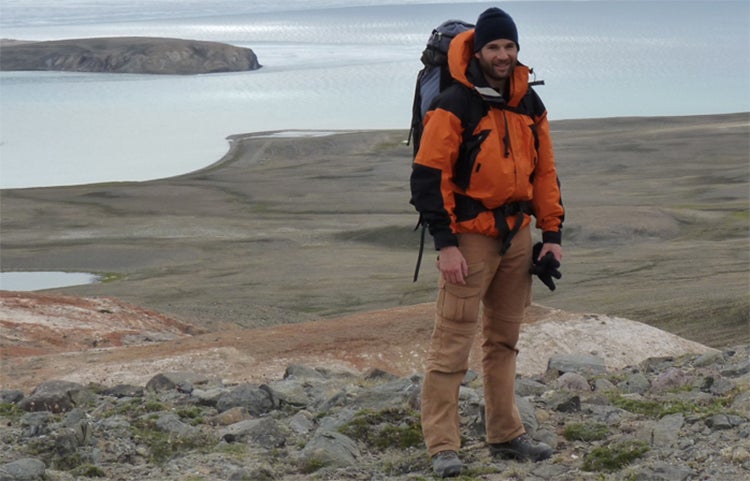 Igor Lehnherr, an assistant professor of geography at U of T Mississauga, says the field work for his latest study spanned several seasons and involved collaboration with other research teams in order to expand sampling (photo by Igor Lehnherr)
Arctic methylmercury levels depend on a complex mix of factors, including industrial emissions, precipitation patterns, microbial numbers and activity, as well as changes in seasonal sea ice. The complexity, along with the remoteness of northern ecosystems, make Lehnherr's work particularly challenging.
"The field work spanned a few seasons," he says of his latest study. "Some years we were there in the spring when it's all snow and ice cover, some years in the summer, some years for both. By combining efforts with other teams, we expanded the sampling. Arctic research by nature is fairly collaborative – we share costs, time and ideas."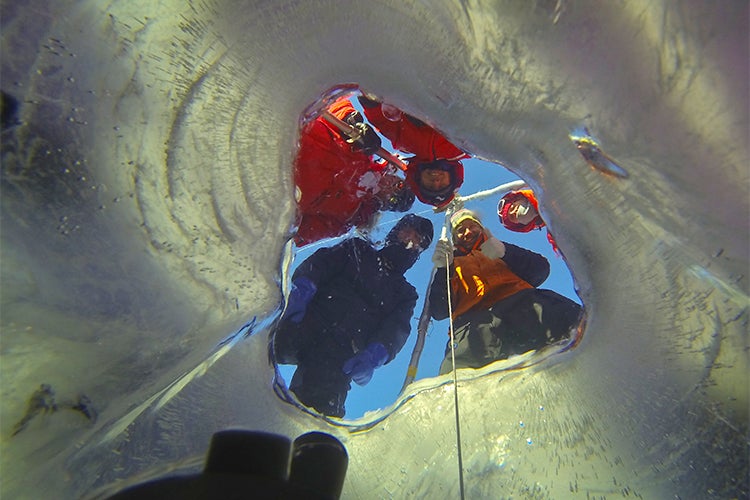 Igor Lehnherr and his research team take water samples through the ice (photo by Igor Lehnherr)
In general, methylmercury-producing microbes are more active in warmer environments, implying a direct correlation between global warming and increased toxicity. But climate change also has many other effects that can exacerbate, mitigate and further complicate the situation.
"Temperature in the Arctic also controls permafrost thaw. It affects the amount of precipitation by controlling cloud cover, sea ice cover, rates of evaporation and these kinds of things," Lehnherr says.
Changing weather patterns also affect how much methylmercury builds up in specific isolated areas and how efficiently it flows from one lake to the next, creating more widespread problems. In the short term, Lehnherr says it looks as though reduced emissions have not fully translated into cleaner Arctic ecosystems. However, Lehnherr says it should not necessarily be interpreted as a sign that efforts to reduce mercury aren't worth it.
"I mostly think it validates the ongoing efforts to reduce anthropogenic mercury emissions," he says. "Countries have shown this is something they're willing to take on. These results allow us to have reasonable expectations about how long it will take for mercury levels to go down and stabilize."
Lehnherr also wants to reassure people in northern communities who may be concerned about the safety of their food supply.
"Whenever I talk about the risks of mercury and negative health impacts, I always stress that the benefits of consuming traditional foods vastly outweigh the risks of contaminants. Locally caught Arctic char has better nutritional value than dried goods and flown-in goods," he says.
Lehnherr plans to continue his study of methylmercury in the Arctic region to get a better sense of the long-term impacts of climate change.
UTM