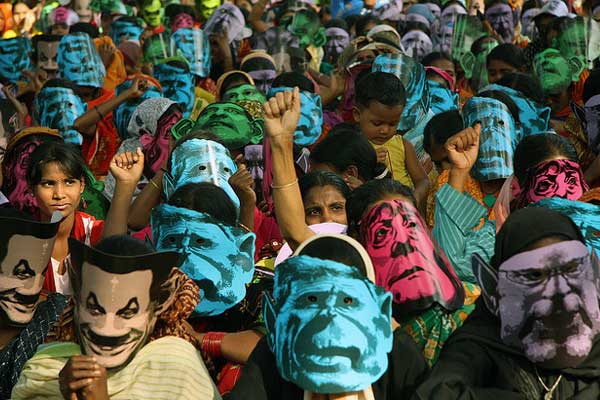 Climate change is having devastating effect on global health, U of T profs tell roundtable
U of T, French embassy and United Nations Association in Canada jointly sponsor event
The hottest summer on record, the drought in California, wildfires in British Columbia and even the refugee crisis in Syria – all are consequences of global warming, said experts gathered at the University of Toronto last week.
But there is hope, Professor Richard Peltier said, pointing to the European Union.
"The EU leads in reducing greenhouse gasses, yet at the same time it is increasing its Gross Domestic Product," said Peltier. "GDP increases while emissions decrease. We can do the same."
Peltier, the director of U of T's Centre for Global Change Science (CGCS) made the comments on Oct. 8, during a roundtable discussion at the Isabel Bader Theatre on climate change and health cosponsored by U of T, the French embassy and the United Nations Association in Canada. 
It was one of 12 events held across North America leading up to the United Nations Climate Change Conference to be hosted by France in December 2015. Called FACTS (French Ameri-Can Climate TalkS), the events aimed to mobilize French, American, and Canadian public opinion about the issues being addressed at the climate change conference in Paris.
The U of T event featured remarks by Ontario Lieutenant-Governor (and former U of T adjunct professor) Elizabeth Dowdeswell and Ontario environment and climate change minister Glen Murray, who, in a passionate speech, noted how a drought in Syria helped fuel that country's current refugee crisis. 
"The roots of conflict in Syria are complex," Murray said, "But climate change, drought and social unrest are all contributing factors."
Murray added that Canada is one of the most wasteful societies in the world, but can still find the ability to lead in facing environmental challenges.
The highlight of the evening was a panel discussion led by Globe and Mail Report on Business editor Paul Waldie. Participating in the discussion were Peltier, U of T Dalla Lana School of Public Health professor James Orbinski, Patricia Beneke, regional director of the United Nation Environment Programme Regional Office for North America, and Jean-François Toussaint, a cardiologist and professor of physiology at University Paris Descartes - France. 
Orbinski, who is also the research chair in global health at Wilfrid Laurier University, cited falling crop yields in the southern hemisphere and an increase in Lyme disease as some of the effects of global climate change on health. 
"Only collective action can tackle these problems such as climate change and infectious diseases," he said.
Peltier pointed to heat waves in India and Pakistan that have led to thousands of deaths. He also warned that climate change events can have far-ranging consequences, citing his own research on the effects of the California drought on Ontario's climate.
Peltier said U of T became involved in this event when he was contacted by the French embassy in Ottawa with a request to help. "We provided modest monetary support and I also invited the School of Environment to be co-sponsor with the CGCS." 
The climate change conference in France will be the largest diplomatic event ever hosted by France and one of the largest climate change events ever, said Marc Trouyet, Consul General of France in Toronto.  The conference objective is to achieve a legally binding and universal agreement on climate from all the nations of the world.