Christine Allen appointed U of T's first associate vice-president and vice-provost, strategic initiatives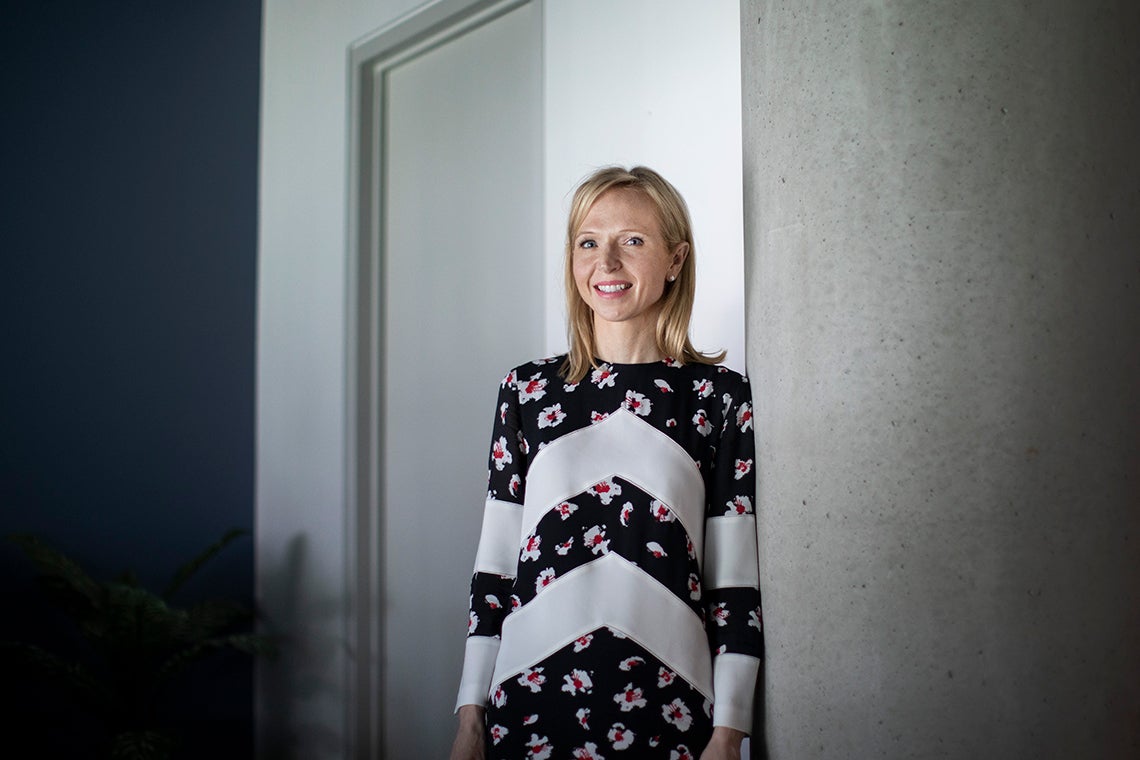 Christine Allen, a world-renowned researcher in nanomedicine and image-guided drug delivery, has been appointed the University of Toronto's first-ever associate vice-president and vice-provost, strategic initiatives.
In the newly created role, Allen will work with academic and administrative bodies across the university's three campuses to seed and scale interdisciplinary initiatives.
Examples of such endeavours include the School of Cities, Medicine by Design and, most recently, the Schwartz Reisman Institute for Technology and Society, which draws on U of T's strength in the sciences, humanities and social sciences to explore the benefits and challenges of AI, biotechnology and other technological advances on society. 
"The idea is to help foster collaboration so that we can move big, cross-disciplinary, multi-unit ideas forward," said Allen, who is a professor in the Leslie Dan Faculty of Pharmacy and served as the faculty's interim dean in the most recent academic year.
"That means breaking down silos that may exist and providing support where needed to ensure that we can take something – which might have grown to a certain extent – to the next level."
U of T created the new position following broad consultations over the past year that identified the need for a new role dedicated to forging cross-divisional initiatives to advance knowledge and produce solutions for complex problems. The new position will also have a key role in supporting cross‐divisional initiatives with expertise in areas such as budget and finance, human resources, proposal development, fellowship models, events and public engagement so that individual initiatives do not have to duplicate efforts at smaller scales.
"Many of the world's toughest problems can only be solved by working across disciplines – an approach U of T is uniquely equipped to undertake because of the scope of our world-class scholarship and our location in one of the most diverse and globally connected cities in the world," said Vivek Goel, U of T's vice-president, research and innovation, and strategic initiatives.
"Building and maintaining such collaborative initiatives with multiple partners is challenging, and particularly complex in the highly decentralized U of T environment. Nevertheless, our faculty and students expect to be able to develop and engage with such initiatives."
Allen is an internationally recognized pioneer in the research and development of novel delivery technologies for cancer detection and treatment. A successful entrepreneur, she co-founded Nanovista, a startup that is commercializing technology developed at U of T and Princess Margaret Cancer Centre to help surgeons identify and remove cancerous tumors. She was also appointed chief scientific officer of Avicanna, a company devoted to the development of plant-based cannabinoids for medical applications.
Allen joined the Leslie Dan Faculty as an assistant professor in 2002 and went on to serve as the faculty's associate dean, academic from 2011 to 2012, and as associate dean, graduate education from 2013 to 2015.
"Our faculty leadership are looking forward to working with Professor Allen to harness our inter-disciplinary strengths and create innovative research and teaching programs," said Vice-President & Provost Cheryl Regehr.
"Over the course of her career at U of T, Professor Allen has established herself as a world-leading researcher, a committed mentor to faculty and a passionate educator with a talent for fostering interdisciplinary research approaches.
"Her leadership will help foster innovative research and teaching programs at the convergence of diverse fields, which, in turn, will provide extraordinary opportunities for faculty and students alike."
In her new role, Allen will serve as the university's point person for cross-divisional initiatives and will work to foster collaboration between the vast pool of experts spread across U of T's various faculties and departments. She will also coach and guide faculty members to oversee and champion interdisciplinary research initiatives themselves.
"I see my office as being the one that will help bring these different people together," she said.
Allen added that the decision to create the position of Associate Vice-President and Vice-Provost, Strategic Initiatives demonstrates U of T isn't keen to simply rest on its laurels.
"U of T is getting ahead of the game," she said. "We're going to be one of the few universities with a position like this in place that's truly focused on breaking down barriers and increasing collaboration.
 "We're going to have the teams in place, we're going to be scanning to see what opportunities are out there. We're going to be ready."
UTC