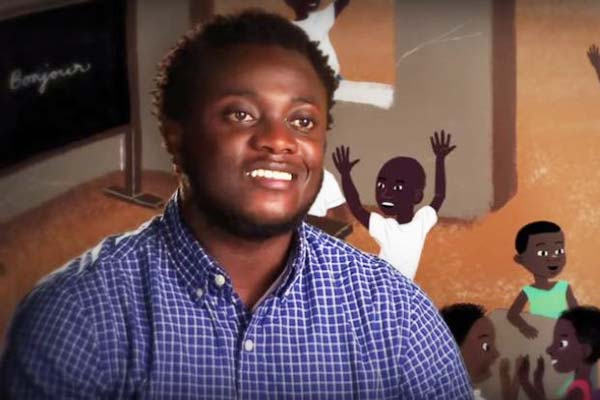 Child Soldier: graphic novel tells real-life story of U of T student
Michel Chikwanine says he hopes his debut work will draw children into important conversations
At the age of five, University of Toronto student Michel Chikwanine was kidnapped from a village football field in his home country of the Democratic Republic of Congo.
He was drugged, blindfolded and forced to kill his best friend as initiation into becoming a child soldier.
"I didn't know I had killed him," Chikwanine told Marci Ien of
Canada AM
on Oct. 2. "I remember looking at him on the ground, bleeding."
(Watch video on Canada AM)
"I thought that he was doing what we were told when we were kids, which is, 'You hear a gun shot, you drop to the ground,'" he said. "Except I found out later that he just wasn't breathing."
The Woodsworth College student says he hopes a new graphic novel he co-authored with writer Jessica Dee Humphreys will spin his story of trauma into something valuable – a tool sparking conversations between parents, teachers and children about the sometimes difficult realities of life for kids around the world.
Child Soldier: When Boys and Girls Are Used in War
launched on Oct. 6 as part of Kids Can Press's CitizenKid series of books.
(Read more about Child Soldier)
"I've never written for pity or to feel sorry for myself," he told Matt Galloway of CBC Radio's
Metro Morning
on Oct. 6. "I've written this because I know there are young people all around the world going through many difficult situations, like I am, but all of us have the ability and the responsibility to care. It's important for us to care for other human beings. And that's why this was written, for us to have that conversation."
(Listen to CBC interview)
A feature in
Macleans
explained that Chikwanine came to write the book after former senator and retired general Roméo Dallaire – an advocate for child soldiers – was unable to himself write a book on the issue.
(Read Macleans feature)
Macleans quoted Chikwanine describing how his experiences in North America helped him see the need to share the story of child soldiers in Africa: a girl in Canada complaining about the colour of her mobile phone "didn't know her cellphone was causing the war in the Congo, a war over minerals."
"That's when I realized people need to know what's causing conflict and atrocities across the world. They have no idea what being a refugee means. It means you're a nobody – because you have no papers, you have no say in your life."
Chikwanine is now an undergraduate focusing on African Studies. 
"As much as my story is important," he said in the book trailer for Child Soldier, "taking action and ending the issue is just as important."
UTC