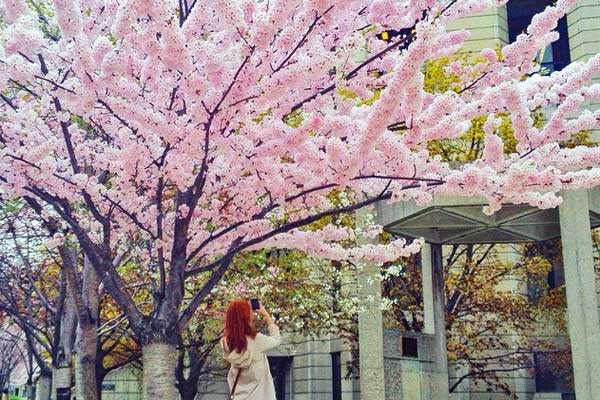 Cherry trees protected, preserved before work begins on Robarts Library extension
Cherished for their spring blossoms, trees are being relocated before work begins on new Commons
Construction of the Robarts Common extension to Robarts Library is expected to get underway next spring, with the new 1,200-seat study commons available for use by students in the 2017-2018 school year.
In preparation for the construction work, arborists will relocate or replace 32 cherry trees currently on the site. The relocation and replanting, by PAO Horticultural of Hornby, Ontario, will begin on November 12, project manager Blair Jurecka told U of T News. 
"Autumn is the best time to replant the trees as they are dormant at this time," Jurecka said, adding 17 healthy trees will be relocated close by, while 15 failed trees will be replaced by trees of equivalent size. Twenty-three of the 55 cherry trees will be unaffected by the construction.
The trees were first planted as part of the Sakura Project, established by the Consulate General of Japan to celebrate the growing friendship between Ontario and Japan. The Consulate General donated 3,082 trees to be planted in public places in Ontario, including U of T's downtown Toronto and Scarborough campuses. 
"The trees were originally planted too close together to remain healthy and viable," Jurecka said. "The trees currently located along Huron are crowded and competing for space and light. This move, and the reconfiguration of Robarts Common, will not only ensure successful long-term growth of the trees, but will also allow for stone seating and an improved, more welcoming landscape."
That's welcome news for Sarah Khan, U of T's marketing and online communications coordinator. 
"The trees are such an important part of U of T's history," Khan said. "Year after year, students, staff, faculty and others come to see the blossoms. This annual tradition is one of our top moments on social media.
"Since the blossoms last about a week, sometimes less, there is a lot of anticipation on Twitter and Instagram during the weeks leading up to the cherry blossoms. And once they start blooming, people share thousands of photos of the blossoms. Robarts becomes a festive place where people bring their friends and kids – some people even bring their dogs to check out the trees."
Jurecka noted that the local community, the City of Toronto and the Japanese Consulate General have been consulted extensively about the plan. The 15 trees to be replaced at Robarts are all failed graft cherries, where the host trunk has overcome the cherry graft. "There will always be 55 live, healthy cherry trees on the site," Jurecka said.
"We know how loved these trees are by the community, particularly in the spring when they draw hundreds of visitors to view them," said U of T Chief Librarian Larry Alford. "We look forward to restoring them and ensuring that they thrive for the enjoyment of future generations."
Below, see a storify of some of the social media posts celebrating the cherry trees in spring: