Charmaine Williams appointed dean of the Factor-Inwentash Faculty of Social Work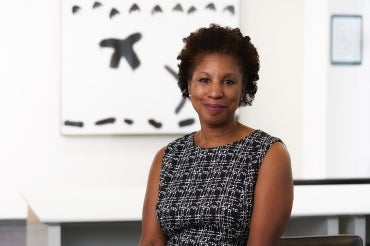 Charmaine Williams – an accomplished leader and community engaged researcher with a deep commitment to student success – has been appointed dean of the University of Toronto's Factor-Inwentash Faculty of Social Work for a five-year term that began Jan.1, 2023. 
Williams brings a wealth of experience and expertise to the position, including multiple leadership roles at U of T focused on strengthening student programs and experiences, and a body of research that bridges practice and access, with a focus on equity.
Now as the dean of Canada's top-ranked social work school, Williams is well positioned to promote the faculty's potential to address global issues that are at the core of societal health and at the heart of the university's Defy Gravity goals. 
"In all of her roles, Professor Williams has distinguished herself as someone who is dedicated, student-focused, and a champion for issues of equity, diversity, inclusion, and reconciliation," says Cheryl Regehr, U of T's vice-president and provost. "Her passion for social work, her dedication to the future of the profession, and her vision will all be central to the Faculty's continued success in the years ahead."   
Williams completed both her master of social work and PhD degrees at U of T and joined the Factor-Inwentash Faculty of Social Work (FIFSW) as a faculty member in 2002. In January 2022, she left her role as vice-dean, students at U of T's School of Graduate Studies (a position she had held since 2018) to serve as the Factor-Inwentash Faculty of Social Work's interim dean. She has also served as the university's provostial adviser on access programs (2014-2015) and as its anti-racism and cultural diversity officer (2003-2004). She was the Factor-Inwentash Faculty of Social Work's associate dean, academic from 2009 to 2014. 
"In each of the administrative positions I took on at the University, contributing to equity, diversity and inclusion and providing a social work perspective were among my key goals," says Williams, who is the faculty's second Black dean and the first Black woman to take on this leadership role.  
Her goals as dean will be no exception. Williams hopes to establish the Factor-Inwentash Faculty of Social Work as a leader in promoting diversity and developing diverse and responsive social work practices. "The way social work is understood, taught, and practised must transform to be more reflective of and responsive to the communities it serves," says Williams, "Our Faculty has been actively gathering evidence of communities' changing needs and is well positioned to contribute to a second century of Social Work that is inclusive, anti-oppressive, anti-colonial, and culturally-contextualized."  
Along with the role of dean, Williams will hold the Sandra Rotman Chair in Social Work. The position enables the chairholder to pursue a program of research relevant to emerging social work trends and incorporate knowledge gained with the continual improvement of the social work curriculum. 
Williams' past research has focused on health equity issues affecting various populations, including racialized women, LGBTQ communities and families affected by mental illness. She has also been involved in organizational change initiatives in the health-care sector. Recent activities include serving on the expert panel for the Mental Health of Black Canadians Initiative at the Public Health Agency of Canada, working on the anti-racism advisory panel that developed the Toronto Police Service's race-based data collection policy, and joining the Advisory Board for the Group for the Advancement of Doctoral Education in Social Work.   
"The global pandemic and the multiple crises that became more visible in its wake revealed the fragility and inequities of the institutions and services that we rely on to promote the safety and well-being of local and global populations," Williams says. "During this time, there has also been increased recognition of the contributions of social work and the unique expertise it brings to bear."  
Williams believes that U of T's social work faculty has a key role to play in developing interdisciplinary solutions to complex social problems. She cites the strong ties the Factor-Inwentash Faculty of Social Work has already established through its collaborative programs, joint degrees and vast array of research collaborations in areas such as health, gerontology and child welfare. "I see opportunities for us to build stronger relationships with a variety of fields to address issues in the labour market, public health, housing, immigration, the environment, and other sectors," she says. 
She argues that the Factor-Inwentash Faculty of Social Work's global impact is also of note. "Canadian social work is increasingly affected by – and has an effect on – global human rights and well-being," Williams says. "FIFSW's research and education is grounded in global awareness, with a robust presence of faculty members and graduates who are engaged in work throughout the world. I see this work as a distinguishing characteristic of our Faculty." 
As Williams steps into the role of dean during a time of growth and change for both the field and the faculty, she is excited for what lies ahead. "The opportunity to lead this Faculty is tremendously exciting to me because I see FIFSW as uniquely positioned to lead toward the future of social work through its research, education and advocacy," says Williams. "I believe that social work is one of the best places to do the work of making this world safer, healthier and more just." 
Social Work