'Change the system': U of T marks 32nd anniversary of École Polytechnique massacre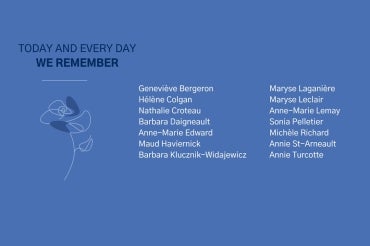 Members of the University of Toronto community gathered virtually on Monday to remember the 14 women killed in the École Polytechnique massacre 32 years ago – and to reflect on how to combat gender inequality and gender-based violence today.
At a tri-campus event marking the National Day of Remembrance and Action on Violence Against Women, Marisa Sterling, the assistant dean and director diversity, inclusion and professionalism in the Faculty of Applied Science & Engineering, said she was a third-year chemical engineering student at U of T in 1989 when a shooter went on a rampage at the Montreal school and killed 14 women for being who they were.
Another 10 women and four men were injured.
"We need to change the system that allows violence to continue as a known and acceptable way of life," Sterling said. "We need to speak up when we witness acts of bullying, harassment and violence. We need to all act no matter our gender identity and work together."
She recalled feeling pressure to prove she belonged in her engineering classes in 1989, when women only accounted for about 15 per cent of students. Today, the share of women in undergraduate engineering programs at U of T has grown to 40 per cent (the national average was 22 per cent last year, according to University Affairs).
Sterling was one of several speakers at the event who spoke about the need for action to address gender inequality and gender-based violence at a time when domestic violence reports are on the rise during the pandemic. Separately, Kelly Hannah-Moffat, U of T's vice-president, people strategy, equity and culture, noted in a statement that the Dec. 6 event also follows the recent attacks in Atlanta, Ga. against Asian women and the 2021 Missing and Murdered Indigenous Women, Girls, and 2SLGBTQQIA+ People National Action Plan, which reports that 'Indigenous women and girls are 12 times more likely to be murdered or missing than non-Indigenous women.'"  
"Ending gender-based violence on our campuses and in society at large requires individual and collective will," said Hannah-Moffat. "In your reflections on December 6, please consider what choices you can make to help us move from remembrance to action."
In a tribute video, U of T Engineering students read the names of each of the victims of the Polytechnique massacre aloud. The Skule orchestra also performed the intermezzo from Pietro Mascagni's Cavalleria Rusticana at the online event.
Meanwhile, at Convocation Hall on the St. George campus, U of T Engineering students marked the anniversary of the tragedy by erecting a memorial to the victims: a simple white rose stemming from a wooden base inscribed with the names of all 14 women.
The names of the 14 women killed in the École Polytechnique massacre were written on the base of a flower erected at Convocation Hall (Photo by Sara Hines)
The virtual event was also used to announce the winners of student scholarships for research in the area of gender-based violence.
Micah Kalisch, in her third year of a bachelor's in gender studies and sociology, with a minor in equity studies, was the undergraduate student winner. She was awarded the scholarship in part for founding and leading the PEARS Project (Prevention, Empowerment, Advocacy and Response for Survivors), a student-led sexual violence survivor advocacy group with 75 members across U of T's three campuses.
The group's work is guided by principles of autonomy, consent, equity, mutual aid and support and care, Kalisch told U of T News. The project has provided peer support to survivors of gender-based violence and connected them with access to safer housing, counselling, financial aid and trauma-informed medical care.
A survivor herself, Kalisch researches rape culture, trauma and survivor-centric practices.
"Today is about reflection, education, mourning, acknowledging and holding space for the feelings associated with this process and recognizing there is a national epidemic of gender-based violence and taking action to eradicate all forms of gender-based violence," said Kalisch.
Ran Hu, a PhD student at the Factor-Inwentash Faculty of Social Work, was one of two graduate winners. She focuses on structural and interpersonal violence against women and issues related to commercial sex and human trafficking. In a paper published last year, Hu looks at the "hidden pandemic" of family violence in the background of COVID-19, using machine learning to analyze a million tweets.
The second graduate winner was Eugene Emeka Dim, a PhD student in sociology at the Faculty of Arts & Science. He researches intimate partner violence, gender studies and political participation in Africa and, in one recent published study, examined the dynamics of intimate partner violence in Lagos State, Nigeria.
Sandy Welsh, U of T's vice-provost, students, congratulated Kalisch, Hu and Dim.
"All three of this year's award winners should be commended on their contributions – in research, in action, on influencing a better way forward," she said. "We thank you for your commitment and your passion in shining a spotlight on gender-based violence, and working toward, a better, safer future for women and girls, trans and non-binary people."
In a panel to conclude the event, experts considered how to end gender-based violence after the pandemic.
The panel featured: Angela Treglia, U of T's director of sexual violence prevention and support; Bristy Chakrabarty, sexual violence prevention and response co-ordinator; Tee Duke, U of T Mississauga's assistant director of Indigenous Initiatives; Paulette Senior, CEO of the Canadian Women's Foundation; Reenita Verma, co-ordinator of anti-violence initiatives at the 519 community centre; and Selena Zhang, a fourth-year U of T Scarborough student who was a work-study student at the Sexual Violence Prevention & Support Centre. 
Zhang, who is an international student from China, called attention to the intersection of gender-based violence and anti-Asian hate.
"The look of an Asian face adds another layer of danger," she said.
Earlier in the pandemic, her mom suggested she dye her hair blonde to look "less Asian," she added.
Duke, a member of the Niisaachewan Anishinaabe Nation, noted the high rate of gender-based violence inflicted on Indigenous women, girls and two-spirit people. "Unfortunately, for many, home is not a place of safety or peace," she said.
Chakrabarty described the fight against gender-based violence as a collective effort "in which we all must do our parts – especially those of us with privilege."
"Whether by supporting someone individually, contributing through our daily work or research, offering financial support, volunteering, or through other means – we all have a role to play in actualizing a world without gender-based violence," she said.
UTC