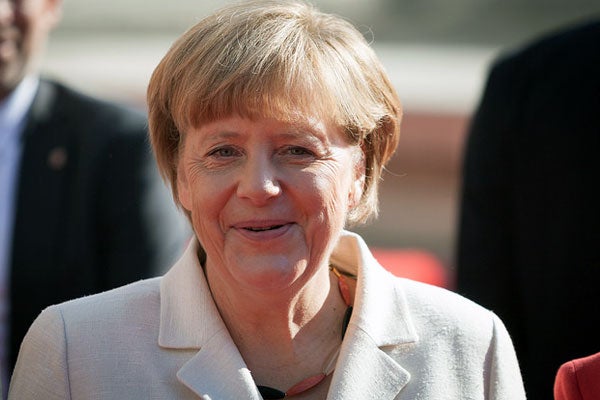 Chancellor Angela Merkel took Germany from "immigration pariah" to leader. Now what?
Political scientist reflects on a decade in power for TIME magazine's Person of the Year
German Chancellor Angela Merkel is TIME magazine's Person of the Year, beating such shortlisted candidates as the head of ISIS and becoming the first woman to receive the distinction in 29 years.
Merkel has been in power for a decade now – and in the past year alone she's gone from being depicted as pitiless to merciful. So how does the rebranding of Merkel affect Germany and the European Union?
Phil Triadafilopoulos, associate professor in the department of political science at the University of Toronto Scarborough, is an expert on immigration and citizenship policies, and how they reflect and reconfigure boundaries of national belonging in liberal-democratic states.
He spoke with U of T News about Merkel's leadership and its impact on Germany and beyond.
---
What do you think of TIME magazine naming Chancellor Merkel its Person of the Year?
I very much agree with TIME magazine's decision. Angela Merkel led efforts to salvage the euro over the summer and is now the principal exponent of a more open, humane and courageous Europe – a Europe that will not retreat behind walls in the face of a massive and ongoing humanitarian catastrophe.
But I must say that it is deeply ironic that her stand on the Syrian refugee crisis has sharpened questions about the future of Europe, both as a political space defined by freedom of movement and a post-national polity based on burden sharing and pooled sovereignty. Chancellor Merkel has taken a difficult, principled stance and, in so doing, set in motion powerful forces that will buffet Germany and Europe for many months to come.
Merkel was once quoted as saying that multiculturalism in Germany had failed. So what motivated her decision to set no limits on the number of refugees Germany would accept?
There are several competing theories. One holds that the decision reflects a desire to make amends for historical sins committed by the Nazis.  This sounds great but is hard to square with the Chancellor's incremental/pragmatic approach to politics – does Angela Merkel now see herself as a world-historical figure? I am not so sure. Remember, this is the same person who only a short time before responded to a question from a child asylum seeker in a manner that brought the child to tears (she effectively said we cannot let in everyone who wants to come in).  
Another view sees the Chancellor using the refugee issue to rehabilitate Germany's image during the Greek crisis as a miserly, rules obsessed hegemon.  
Yet another holds that Merkel intended to use the issue to encourage greater solidarity among EU partners, again, to make up for the failure to come together during the Greek crisis. The burden-sharing plan she has championed speaks to this motivation. Given her EU partners' lukewarm reaction to the plan, the move would appear to have backfired.
 
It's expected that 800,000 asylum seekers will be at Germany's door by the end of the year. How will Germany cope with their integration? 
The challenge right now lies in providing the asylum seekers with shelter and other basic necessities while simultaneously deciding on their claims for refugee status. This is a truly monumental undertaking that is testing the capacity of the German state and the ability of German policymakers across the federal, state and municipal levels to work together.
In the longer term, the infusion of so many new people in such a short period of time will likely have deeper effects. Opponents of migration often claim that the admission of foreigners changes the character of the receiving society. While their fears tend to be unduly pessimistic, they have a point: Immigration is a motor of social change. How the admission and integration of refugees will influence the development of German identity will be interesting to follow.
Merkel is facing strong dissent within her own Christian Democratic Union party over her refugee policy. Did opposition increase after the attacks on Paris?
Opposition was mounting even before the attacks, led in the main by the CSU leadership in Bavaria and the Chancellor's cabinet colleague, the Minister of Interior. This intra-coalition and intra-cabinet opposition has caused Merkel to change her position somewhat by, for example, supporting the passage of a tougher asylum policy.  
That being said, the Chancellor has held firm against recent calls from EU partners to place a hold on refugee admissions, insisting that refugee policy not be sacrificed to security policy. She is walking a tightrope with respect to her positions in Germany and the EU.
How will her open door policy affect Brand Germany, whose success today is attributed by many Germans to Merkel?
The effect is already significant: Germany has gone from being an immigration pariah in the eyes of outside observers to a leader.  
In this sense, Merkel's bold move has had immediate impact.  Whether this lasts will depend on how well she deals with domestic and international opposition to her positions.