Up to the challenge – U of T engineering team one of eight selected to develop self-driving electric cars
U of T is one of eight universities from across North America chosen to compete in the AutoDrive Challenge, sponsored by GM and SAE International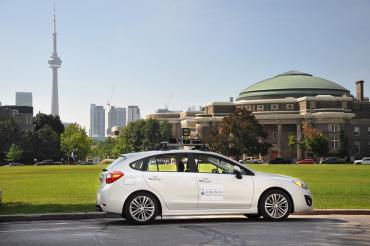 A student team from U of T's Faculty of Applied Science & Engineering will spend the next year retrofitting a Chevrolet Bolt with visual sensors, robotic components and software that enable it to drive itself.
The team is one of eight from institutions across North America selected today to compete in the first-ever AutoDrive Challenge™. Sponsored jointly by General Motors (GM) and SAE International, the intercollegiate competition has students turning an electric vehicle into a fully self-driving one.
Professor Tim Barfoot of U of T's Institute for Aerospace Studies (UTIAS), who has worked on visual navigation in robots for nearly two decades, will serve as the team's primary faculty adviser.
"In my lab, we already have robots that can drive themselves in off-road conditions," says Barfoot. "But once you put a passenger in the vehicle, and you put it on a road with moving obstacles on it, you're dealing with a different set of challenges." 
Barfoot and Angela Schoellig, an assistant professor at UTIAS and the team's deputy adviser, were both in Detroit today for the official announcement of the selected teams, which includes Kettering University, Michigan State University, Michigan Tech, North Carolina A&T University, Texas A&M University, Virginia Tech and the University of Waterloo.
"SAE International is excited to expand our partnership with GM to build the future STEM workforce through the AutoDrive Challenge," says Chris Ciuca, director of pre-professional programs at SAE International. "Building on our success through programs like Formula SAE, the AutoDrive Challenge launches a new platform to engage industry and academia in working towards a common goal of preparing the brightest young minds for the future of autonomous technologies."
"Congratulations to the Universities of Toronto and Waterloo on this wonderful achievement," says Brain Tossan, director of the Canadian Technical Centre for GM Canada. "We are very excited to work closely with you over the next three years." 
The complete AutoDrive Challenge™ will last three years, and teams will meet each spring at annual competitions based around specific milestones. The first challenge, which involves driving autonomously down a straight road with no obstacles, is set to take place in the spring of 2018.
The vehicle itself will be donated by General Motors, and students will need to modify it to incorporate a complete set of sensors and write the software to control it. Barfoot believes they are ready for the challenge.
"We know that our undergraduate students, especially those specializing in robotics, are eager for more hands-on experiences," he says. "I can't think of a better opportunity than this."
Approximately 100 students will be needed to fill the various roles on the team, including calibrating the sensors, designing the software algorithms and testing to ensure safety compliance. The team will receive expert guidance not only from Barfoot and Schoellig, but also from nearly a dozen other researchers at U of T Engineering and in the department of computer science who specialize in robotics, machine learning and artificial intelligence.
Support for the new team's establishment comes from the U of T Engineering Dean's Strategic Fund. The vehicle's systems will be built in Barfoot's lab at UTIAS, which is in the process of being renovated into a state-of-the-art facility for his group's research and will soon house two self-driving vehicles.
"We have an advantage in that our brand-new facility backs onto a private road," he says. "We can do a lot of testing just by opening the garage door."
Barfoot has seen first-hand the demand for engineers with experience in designing autonomous vehicles: about half of his former graduate students are employed in self-driving car groups around the world, including at Apple, Nissan and Oxbotica.
"GM recently opened a new technology centre in Markham, north of Toronto, and has pledged to hire 1,000 engineers in the connected and autonomous vehicles space over the next ten years," says Barfoot. "A project like this will go a long way toward creating a pipeline of people to fill those kinds of jobs."
Engineering