Celebrating U of T health innovation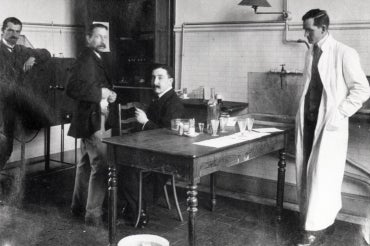 The University of Toronto is celebrating nearly two centuries of innovation in health care this year, taking a look back at successes such as the creation and large-scale production of drugs like insulin and life-saving vaccines for diphtheria, smallpox and polio.
Today, U of T is transforming the latest research into medical technology and startups that will continue to improve the well-being of people globally.
To recognize U of T's innovation in health care, Vivek Goel, vice-president of research and innovation, Adalsteinn Brown, the interim dean of the Dalla Lana School of Public Health, and Trevor Young, dean of the Faculty of Medicine, will be holding a panel discussion and reception at Hart House on Nov. 15.
"Research isn't good for society if it is locked up in the laboratory and doesn't make its way out of conferences and journals," Goel said. "If you have a treatment and know it can improve society, you want it to have impact.
"We know from many studies that as ideas move to policy, programs and services, it leads to stronger economies and societies."
The program will look at three U of T-affiliated institutions that have made significant contributions in narrowing the gap between research and impact, improving health worldwide.
All three have reached important milestones in 2017.
This year marks the 100th anniversary of Connaught Laboratories, now called Sanofi Pasteur Canada. It's also the 90th anniversary of the School of Hygiene at U of T, now known as the Dalla Lana School of Public Health. And it's the 70th anniversary of the department of health administration, now called the Institute of Health Policy, Management and Evaluation (IHPME).
Connaught Laboratories came about when Dr. John Gerald FitzGerald established a laboratory in a stable to produce diphtheria antitoxin to sell at cost to the Provincial Board of Health for free distribution. In 1917, the relocated, expanded lab became U of T's Connaught Laboratories and University Farm, a base for producing a variety of lifesaving medicines.
The Connaught Lab caught the attention of the prestigious Rockefeller Foundation and, with the foundation's support, U of T opened the expanded School of Hygiene in 1927. It was the third of its kind in North America, following Harvard and Johns Hopkins universities. Together, Connaught and the School of Hygiene became a powerhouse for innovation and implementation of research advances to address infectious diseases.
The department of health administration was established within the School of Hygiene in 1947, becoming the first hospital administration program in English-speaking Canada. It began working to improve health care in Canada by tackling the problems faced by health systems, providing research and education in areas such as leadership, policy and systems evaluation.
Moving forward to present day, U of T sold Connaught Laboratories in 1972, with the sale leading to the creation of the $100-million Connaught Fund.
Each year, U of T awards $4 million from the Connaught Fund to interdisciplinary, early career and doctoral researchers, with an emphasis on recognizing those who are meeting challenges facing global society. The Connaught Fund is distributed annually over five distinct programs as part of its ongoing commitment to innovation and implementation.
The Nov. 15 panel will include U of T researchers who are leading efforts in health care innovation today, including Emily Seto, an assistant professor of health informatics at IHPME, Leah Cowen, chair of U of T's department of molecular genetics, and Laura Rosella, an assistant professor of epidemiology at the Dalla Lana School of Public Health and Canada Research Chair in Population Health Analytics.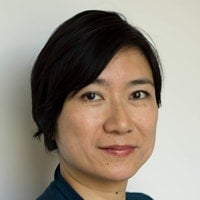 Seto (left) researches mobile technologies to determine how patients with chronic diseases can become more engaged in their own care. For example, Medly, a telemonitoring system for people with multiple chronic conditions, has a smartphone app that monitors a patient's blood pressure, glucose level, weight and symptoms. These measurements are automatically sent to hospital servers where algorithms use the data to generate immediate patient instructions. The system also alerts clinicians if a patient's condition is worsening.
"We want to makes sure we implement these applications correctly so they can help people stay out of the hospital," said Seto. "Leveraging the advances in consumer technology is a huge opportunity, but it's challenging to scale the use of the applications in a sustained way."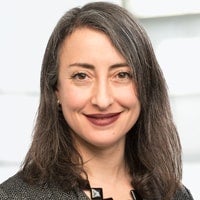 With her research, Cowen (right) is working on getting discoveries to patients sooner. She runs a laboratory that participates in the full spectrum of research activities, from fundamental science through to preclinical drug development. Her research focuses on fungal pathogens, organisms that kill as many people annually as tuberculosis or malaria. She helped create a startup company, Bright Angel, that is developing these therapeutics and potentially bringing them to market. The company aims to eradicate drug resistance by targeting the stress responses required by fungi for survival.
"Our research tries to leverage state-of-the-art genomics to determine how these organisms cause disease and become drug resistant," she said. "We use that information to develop new therapeutics."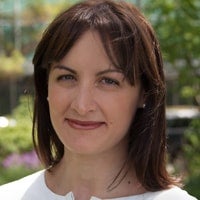 Rosella (left) spends much of her time at a computer, rather than behind a microscope. She uses large, linked databases to explore how the health system is functioning, examine health inequities among Canadians, pinpoint health system inefficiencies, and determine priorities for action. Based on the results, she develops tools to make care more readily available and equitable.
One of her current projects uses big data to look at chronic disease sufferers, a group that tends to rely heavily on hospitals, to determine if there are more cost-effective ways to address their health issues.
"We need to look at putting money toward prevention and health promotion," Rosella said. "Chronic diseases are global challenges and without preventative action that lifts all people, including those who are marginalized, the health system cannot be sustained."
Discussion over the global impact of U of T's basic and applied research, and subsequent innovations, is especially important now as the federal government weighs the implementation of the 35 recommendations made by Canada's Fundamental Science Review, Goel said. The university has launched a #supportthereport advocacy campaign.
"It's even more important to hear from top researchers of today like Seto, Cowen and Rosella to understand why a boost in funding fundamental research is so critical to keep those innovations coming in Canada – for the health and well-being of all of us," he added.
"It's incumbent upon us to play a role in closing the gap between research and impact as a reflection of the money funders invest in us."
Dalla Lana