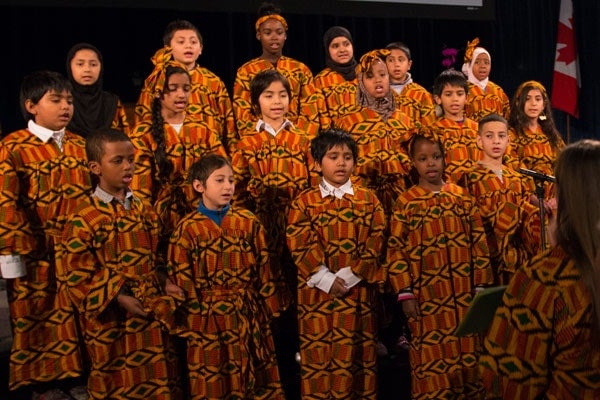 Celebrating Madiba in words and song
"When a man has done what he considers to be his duty to his people and his country, he can rest in peace." ~Nelson Mandela
On December 13, more than 900 Torontonians came together to celebrate the life of Nelson Rolihlahla Mandela (1918 – 2013), whose death on December 5 was mourned by people throughout the world.
The celebration at Convocation Hall was co-hosted by the University of Toronto and the Honourable David Onley, Lieutenant Governor of Ontario, in partnership with members of the South African community, including South African Women for Women and the Canadian Council of South Africans.  The Honourable Kathleen Wynne, premier of Ontario, also participated in the event.
Other speakers included Professor Dickson Eyoh, director of U of T's African Studies Program; South African Consul-General Tselane Mokuena; and U of T first-year student Nana Yaa Boa-Amponsem, a MasterCard Foundation scholar. South African Archbishop Emeritus Desmond Tutu sent video greetings. Several musical performances wowed the crowd.  They included: the Nelson Mandela Park Public School Choir (which sang the national anthems of Canada and the Republic of South Africa), Jackie Richardson and Joe Sealy, the musical group Jabulani, the Nathaniel Dett Chorale and students from U of T's Faculty of Music.
A special guest at the ceremony was Ezrom Mokgakala, an esteemed elder of the South African community who shared a life of struggle with Mandela and was incarcerated with him on Robben Island from 1963 to 1966.  
Mandela spent 27 years in prison under apartheid. After his release in 1990, he helped heal South Africa by renouncing vengeance and calling for national reconciliation between blacks and whites. For his peace-making efforts, Mandela, along with former South African President Frederik de Klerk, was awarded the 1993 Nobel Peace Prize. He served as South Africa's first black president from 1994 to 1999. (Read more about Nelson Mandela.)
In his video remarks, Tutu – who received an honorary degree from the U of T in 2000 – emphasized that the event was a celebration.
"In my address to the University of Toronto Convocation in 2000, I spoke about the South African concept of Ubuntu – the essence of being human, the idea that we are all caught up in a delicate network of interdependence. We see the power of Ubuntu in the people who are gathered here today, and in other towns and cities around the world, to join with the people of South Africa in mourning the loss and celebrating the life of Nelson Mandela. I hope that today you follow the South African tradition and join us in singing, dancing and giving thanks to God for Madiba."
University of Toronto President Meric Gertler, recalling Mandela's statement that "education is the most powerful weapon which you can use to change the world," announced that U of T has established a scholarship in Mandela's honour. With an initial endowment of $250,000, at least two Nelson Mandela Scholarships will be awarded to fourth-year students annually on the basis of academic excellence, demonstrated leadership and community involvement. Candidates must demonstrate a commitment to promoting peace, justice, citizenship and human rights. Gertler's announcement – and his invitation for others to contribute to the fund so that more scholarships could be awarded – was greeted with sustained applause by the audience.
"To listen, to learn, to lead, to follow your principles wherever they may take you, and in the process to teach – these are the characteristics Nelson Mandela personified," said Gertler. 
"The Nelson Mandela Scholarship is just one fitting tribute to an extraordinary individual whose legacy has changed so many lives and made the world a better place."
Terry Lavender is a writer with University Relations at the University of Toronto