From CBC to TikTok, U of T alumnus Gave Lindo has followed his passion for storytelling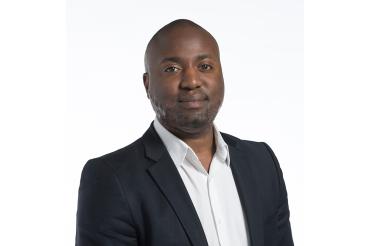 With three degrees from the University of Toronto – a B.A., M.B.A. and law degree – Gave Lindo had no shortage of career options. Ultimately, his love of storytelling steered him toward working in media. 
He led digital content offerings as an executive director at CBC, including CBC.ca and CBC Kids, while also launching the public broadcaster's streaming service, CBC Gem. Now, he leads content programming at TikTok Canada. 
"I started as a litigator, but it was clear to me there were a lot of different ways to impact society," says Lindo, who earned a bachelor of arts with honours and a specialist in political science from the Faculty of Arts & Science as a member of New College, as well as a master's in business administration from the Rotman School of Management and a law degree from U of T.
"You can do that through the legal system or building enterprises, but contributing to the social conversation going on in the world through the media is where my passion for storytelling really came from," Lindo says.
"Stories can help people feel reflected, especially if they come from different cultural backgrounds, socioeconomic perspectives, sexual orientations or genders," he says.
"That is an incredibly powerful tool, and the ability to influence that – in the broadcasting capacity – was really meaningful to me."
At TikTok, Lindo is helping grow a social media platform that has even greater reach, with an estimated one billion users worldwide sharing short-form videos through the app although it was only launched a few years ago. 
"At CBC, I was trying to create opportunities for new voices and creators to pitch and tell their stories. But that's a fairly small group of people, relatively speaking," he says.
"The difference is, with TikTok, companies can be creating content right next to a stay-at-home parent. We're enabling people, regardless of their professional backgrounds, to come to the table, create content and entertain people."
While especially popular with a younger demographic, TikTok started to attract an older generation of users in greater numbers during the pandemic, Lindo says. 
"There's content for all demographics and ages. Older audiences shouldn't feel like TikTok is only for their kids or grandchildren. It's definitely a place they can both consume content and create something that shares their voice and story," he says. 
Lindo's eight years of study at U of T helped him sharpen his critical thinking abilities and develop an appreciation for different points of view.
"It was a combination of strong faculty and interesting subject matter, but also the quality of my classmates and friendships. People you meet not only become lifelong friends but help you see all the sides of the issues you are studying," he says. 
"I still think a lot about the conversations I had during those years, the dynamic nature of those relationships. It cultivated the way I think and the lenses I have on the world."
Taking a diverse set of classes in political science, business and law helped him discover where his passions lay, as well as learn to identify and solve problems differently, he adds. 
"It's really incumbent on people to make the most of those years in terms of exploring what your interests are, what you're passionate about, exploring what angers you and the things you may want to solve," he says.
Outside his classes, Lindo took part in student government and clubs – experiences that he also describes as important learning opportunities. After graduation, he has served on more than a dozen boards, including the Children's Aid Society Toronto, Museum of Contemporary Art Toronto, Laidlaw Foundation, Ontario Creates, TO Live and NOW Magazine.
"Getting involved in extracurriculars like I did is also a very good parallel to life after school, when you have a regular job, but you're still able to volunteer for other things because you've flexed those muscles," he says. 
A&S