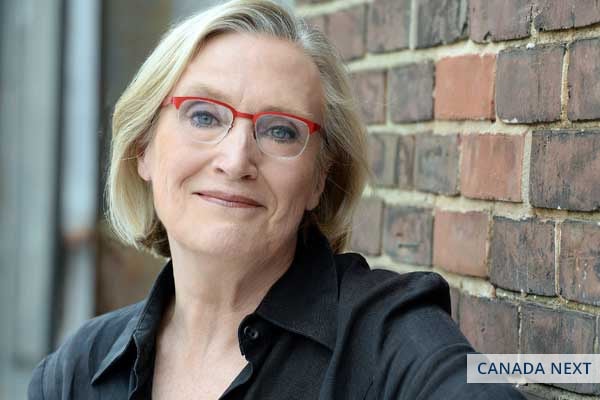 Carolyn Bennett talks with U of T News
Minister of Indigenous and Northern Affairs on the importance of "giving a voice to people who don't have a voice"
When Carolyn Bennett announced a federal inquiry into murdered and missing Indigenous women and girls she was wearing a t-shirt that proclaimed "honour our sisters."
Bennett, named Minister of Indigenous and Northern Affairs after the Oct. 19, 2015 election, has been honouring her sisters ever since her days as a student at the University of Toronto and for most of her adult life as a doctor and advocate not only for women but for those in poverty – "giving a voice to people who don't have a voice," she says.
In an interview with U of T News, Bennett talked about her days at U of T as both a student and an assistant professor, and about her portfolio, which has her taking on the monumental task of helping families deal with the horrific loss of their loved ones, but also to seek ways to prevent such tragedies from happening again. An RCMP report in 2014 said there were 1,181 missing and murdered indigenous women and girls in Canada.
"From my early days at U of T, whether playing hockey or just being a small number of us women in medicine, we were always trying to find our voice," she said. Bennett graduated with a degree in medicine in 1974. 
"My voice became clear in the fight to save Women's College Hospital" in 1989, when she successfully opposed a merger and preserved the unique nature of the hospital's services, which focuses on patients becoming full partners in their care.
"It was also a fight about social determinants of health, particularly violence and poverty – fighting for that hospital was the beginning of my political career." 
The approach taken at the hospital was the same approach the new Liberal government is taking, she said – "not what we do but how."
The Ontario Liberal party approached Bennett to run in the 1995 provincial election. "I said I don't know anything about politics, but I was told what you did with the hospital was political. I didn't know that, and have always called myself an accident political tourist, just fighting for something you believe in, in particular fighting for people who don't have their own voices."
She lost provincially in 1995 but won in the federal riding of St. Paul's in downtown Toronto in 1997, and has been re-elected five times since.  As chair of the Liberal women's caucus she supported a national action plan to address violence against women and founded a Women in House program along with U of T PhD candidate Tina Park, seeking to elect more women to the House of Commons.
In 2000, she wrote a book called Kill or Cure about Canada's health care system. Asked what changes she has seen in the last 15 years Bennett said "we still have much further to go" in terms of differentiating between health and heal care. "We want more health and less health care. There is not yet the focus on health prevention that there should be."
She has talked to medical students across the country, including those at U of T. And has come away impressed by the attitude of "advocating to keep people well, not just patching them up." She has given many speeches "about aiming to keep Canadians physically, mentally, emotionally and spiritually well."
The inquiry into murdered and missing indigenous women and girls is taking a "families first approach," she said. "They have been pushing for over a decade for a national public inquiry not just to seek justice for the victims but for us to put concrete things in place to stop this tragedy from happening to other families."
On Jan. 5, Bennett and the Attorney-General of Canada, Jody Wilson-Raybould, announced the first step in the inquiry, an online survey to allow survivors, family members of victims and front-line providers to voice their opinions on who should conduct the inquiry, its timeframe, who should be heard and what issues should be considered. 
Bennett, who had a clinical adjunct appointment in the department of family and community medicine at U of T at the rank of assistant professor, spoke by video to a meeting of university presidents in Saskatoon last fall about Indigenous issues.
"While I was speaking I kept going back to my time at U of T when we had to swim one length of the pool to graduate. It was all about making us good citizens. I am using that as a parallel because nobody should leave a Canadian university without taking at least one course in Indigenous studies. It doesn't seem too much to ask if the goal is to create good citizens."
University graduates "should no longer be ignorant about our past, both the dark chapters but also the beauty and wisdom that came from the first peoples of this country."
Bennett pointed out that the University of Winnipeg now requires all undergrads to take a course in Indigenous studies and said that she would be in touch with U of T President Meric Gertler early this year to see if U of T would be willing to do the same.