From cargo bikes to online politics: U of T students plug into German innovation via virtual internships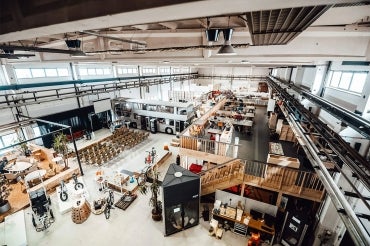 Students in the University of Toronto's Faculty of Arts & Science gave their language skills and career options a big boost last summer via internships with innovative German businesses – all without setting foot in the European country.
Run by the department of Germanic languages and literatures, the students took part in futurGenerator, an extension of the department's iPRAKTIKUM initiative. The internship program, which was conducted virtually this year because of the pandemic, connected students with companies in Berlin and Freiburg so they could receive international work experience.
Hania Eid worked remotely for three months with MotionLab.Berlin, a growing innovation hub focused on developing hardware to enhance urban mobility.
"When I heard of MotionLab as 'Europe's first prototyping space for hardware in mobility,' I was immediately interested," says Eid, a member of Innis College who recently completed her bachelor's degree in political science with a double minor in equity studies and Spanish. "I thought this would be a great way to learn more about a sector that I had never considered working in before, and to contribute to a great company that's developing original projects."
She worked with one of the company's co-founders and produced research for an upcoming project called NOCA, or "no car,"  that is devoted to cycling infrastructure, market research in the area of cargo bikes and the impact of COVID-19 on cycling infrastructure internationally.
"Now, more than ever, it's important to include cycling infrastructure in the bustling cities of major countries, especially in Europe," says Eid. "Because of COVID, many cities have introduced temporary bike lanes to make way for more sustainable and healthier modes of transportation. With these new lanes, the cargo bike industry is booming."
Her work consisted of examining international markets, products and consumer preferences to analyze the feasibility of introducing NOCA to the streets of Germany in the near future.
"By the end of my internship my language skills had improved immensely," says Eid, adding that she was keen to work in a German-speaking enrvironment following graduation. "It was also great to conduct research on a topic completely unrelated to my work in undergrad. Since I'm a recent graduate, it's important to consider different fields of work so as not to limit myself. I'll definitely be looking into working in Germany in the future."
Stuart Jones a fourth-year student at St. Michael's College also completed an internship with MotionLab.Berlin. He is majoring in international relations and European studies and minoring in German studies. He, too, wanted to strengthen his German language skills.
"I truly believe immersion is the pathway to language mastery, and futurGenerator has offered some really great opportunities for students to engage in an authentically German-speaking work environment," he says.
Jones worked on a new digital engagement platform that functions as a virtual symposium for social and political issues.
"As a student of global – particularly European – politics, the chance to do political and business research for an initiative based in Germany was too good to pass up," says Jones.
"I did research and compiled reports on this new political engagement platform – very much still in its genesis – which hopes to connect users so that all citizens can feel their voices are heard and they can appreciate all the channels of democracy beyond just voting."
The reports Jones wrote and the content he was exposed to during the internships was all in German. "This really helped me focus on the language and learn a great deal of new vocabulary and terminology I wouldn't have otherwise in class," he says. "And I gained exposure to current societal discourses in Germany surrounding democracy, political participation and other contemporary issues." 
Jones says he also felt like he was exploring possible career paths. "It was so relevant to my interests and area of academic study, it was almost hard to believe sometimes," he says. "I could really see myself working at a company or on projects like this in the future."
Stefan Soldovieri, chair of the department of Germanic languages and literatures, and Helena Juenger, the iPRAKTIKUM student placement co-ordinator, say they are pleased with futurGenerator's first online internships.
"In the beginning, we felt like the students were not going to have as great an experience as the students who went to Germany last summer," says Juenger. "But the students and MotionLab were incredibly enthusiastic. It was a success on both sides and that was really, really gratifying."
Arts & Science