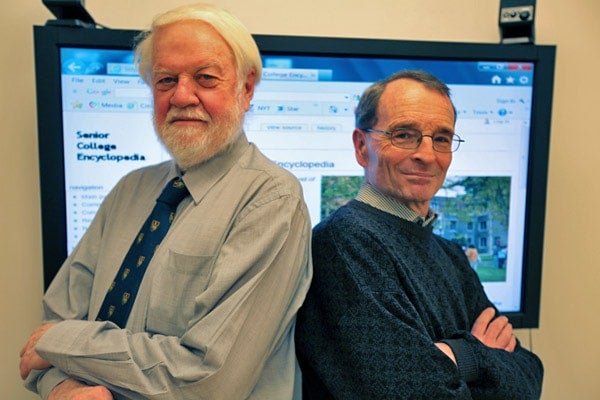 Capturing U of T's history online
Retired academics begin work on a U of T Encyclopedia
Move over, Wikipedia, U of T's Senior College is creating an online University of Toronto encyclopedia.
The college, a group of retired academics and senior administrators working out of the Academic Retiree Centre on McCaul Street, organizes seminars and promotes academic research among retirees. The idea for an online encyclopedia grew out of Alexander (Sandy) Gregor's interest in higher education history and policy.
Gregor, a former academic and administrator from the University of Manitoba, retired to Toronto and joined the Senior College in 2009, its founding year. In pursuing his research interest, he realized there was "no easy access to a system of coherent information about university acts, public policy related to the university, and general institutional history." He believed such information was important to all of the university's constituencies, and a project was born.
"The University of Toronto is special for a number of reasons," he said, explaining why it is so important to capture the university's history. "So much that became a part of Canadian higher education began at U of T. In a sense, it is the centre of what became the English language Canadian education system."
With that in mind, he believes it's important to know how undergraduate and graduate education evolved here. The computer seemed to be the perfect medium for capturing information from a variety of sources, and that's where Ken Rea stepped into the picture.
Rea, a retired U of T economist, is the project's technical editor, focusing on the online platform while Gregor oversees the content, each volunteering hours weekly to the effort. The project is supported by a committee that's part of the Senior College council,  and an advisory board is currently being established.
The encyclopedia uses MediaWiki, the same program used by Wikipedia, provided by the U of T library system. It allows members of the community to enter information and update and link existing entries.
"There was some difficulty initially convincing people that using MediaWiki was appropriate," said Rea. "When we started, people were still suspicious of Wikipedia. They were afraid this could become a medium for uncontrolled information."
Such fears were unfounded. The  academics overseeing the project don't allow anonymous entries or editing, relying instead on  a group of Senior College members who vet and edit the content.
A sampling of the information on the site reflects the eclectic and wide-ranging nature of its creators' interests: entries about former faculty and staff; university-related legislation such as the Federation Act of 1887; edited Medieval texts; and information about  the Steacie Prize and other awards.
One aspect of the encyclopedia Gregor is keen to develop is the personal reminiscences of retired academics.
"The members of the Senior College are almost the corporate memory of the university," said Gregor. "The opportunity to have their experiences recorded systematically is something we don't want to lose. It's an ephemeral, fleeting body of knowledge and experience that we have to capture quickly."
Both men have high hopes for the encyclopedia's potential.
"I hope this becomes part of an electronic version of university history and is continuously updated," said Rea. "This sort of medium provides the opportunity to create a constantly updated, dynamic history very much in keeping with the current thinking about information management. I see it as a kind of pilot project leading to something larger."
Whatever its future, it's clearly a labour of love.