Canadian universities and colleges to sign charter fighting anti-Black racism, promoting inclusion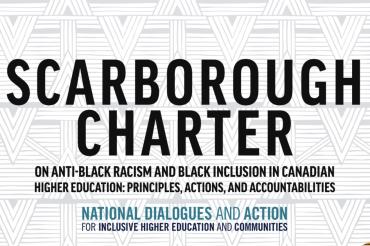 The University of Toronto is one of more than 40 universities and colleges across Canada that will officially sign a charter vowing to redress anti-Black racism and to foster Black inclusion in higher education. 
The online Scarborough Charter launch and signing event is due to take place from 3 to 4 p.m. ET on Nov. 18 and will feature a panel discussion and question-and-answer segment with audience members.
"This charter follows through on a promise we made last year, as a sector, to move from rhetoric to meaningful action in addressing anti-Black racism and to promote Black inclusion," says Wisdom Tettey, vice-president and principal of U of T Scarborough. 
He says the charter is the result of a year-long collaborative process that started during the first National Dialogues and Action for Inclusive Higher Education and Communities, in October of last year. The two-day national forum focused on anti-Black racism and Black inclusion in Canadian higher education.
An inter-institutional committee drafted the charter based on the perspectives and insights shared at the forum. In March, partner institutions began consulting with their own communities to gather feedback on the charter, a process that finished this past summer.
Peter Ricketts, president of Acadia University, says he is delighted that the university based in Wolfville, N.S. will sign the charter. "It's been inspiring to work and collaborate with colleagues across the country to make the future a lot better than the past," he says.
While the only thing left to do in creating the charter is for partner institutions to sign, the work in fighting structural racism is just beginning, says Steven Murphy, president of Ontario Tech University, in Oshawa, Ont.
"As universities we have much work to do in addressing anti-Black racism and ensuring we better reflect the Black communities we serve. The Scarborough Charter can act as a needed accelerant to working through these issues on our campuses, and in turn, in our communities," he says.
The charter identifies key barriers to Black inclusion and possible ways to address them. It also contains concrete actions and accountability mechanisms for institutions to deliver on their promise of structural and systemic change.
The partner institutions wanted those mechanisms built into the charter in order to maintain accountability, move beyond rhetoric and take meaningful action.  
"We are signing the Scarborough Charter so we can hold ourselves accountable to combating anti-Black racism and building more equitable systems," says Joy Johnson, president of Simon Fraser University, in Burnaby, B.C.
"All Black members of the SFU community deserve to feel safe and included on our campuses, and we can – and must – take tangible action towards that goal. I'm heartened to see so many institutions making this commitment and excited to see the progress we make together."
UTC