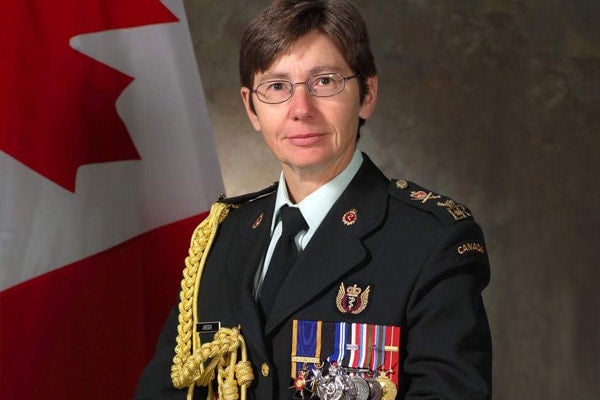 Canadian Forces: alumna retires after serving as surgeon general
Few people have served nearly four decades in the Canadian Forces. Fewer of these are doctors. Fewer still are women.
And only one of these — University of Toronto medicine graduate Dr. Hilary F. Jaeger— has retired with the rank of brigadier general after serving as surgeon general of the Canadian Forces.
Earlier this year, Jaeger closed out her military career after 37 years of stellar service, littered with achievements and firsts.
Jaeger joined a reserve unit in Nova Scotia at the age of 17 while working towards a bachelor of science degree in mathematics at Acadia University, where she also graduated at the top of the engineering program. She went on to study aerospace engineering at Iowa State University, later enrolling in U of T's Faculty of Medicine and graduating as a doctor of medicine in 1986.
"I received a first-rate medical education at U of T that fostered critical inquiry and gradually built a balance of confidence and humility that has stood me in good stead when judgment calls had to be made," said Jaeger. "Whether that was looking after a Crohn's disease patient in the Northwest Territories, triaging the victims of mortar fire in Sarajevo or assessing the standard of health care available to Canadian Forces members outside Canada, my education supported me along the way."
Jaeger was deployed to Sarajevo in 1992 as the senior medical officer and the officer commanding the national support element. In 1994 she returned to the Balkans to command the forward surgical team.
In Canada, she became the first woman and, so far, the only medical officer assigned to teach at the Canadian Land Forces Command and Staff College. In 2004, she was promoted to brigadier general and appointed surgeon general of the Canadian Forces — a job she held for five years. Then, Jaeger was seconded to Veterans Affairs Canada, where she promoted evidence-based practice in the management of military service-related health problems and disabilities.
"From teenage private in a reserve infantry unit, to army doctor, to surgeon general of the Canadian Forces, Jaeger's service is an inspiration for her fellow soldiers and alumni," said Catharine Whiteside, dean of the Faculty of Medicine at U of T.
Captain Chris Eldridge is with the Canadian Forces.