Canadian company's technology being used to censor the internet in 10 countries: U of T's Citizen Lab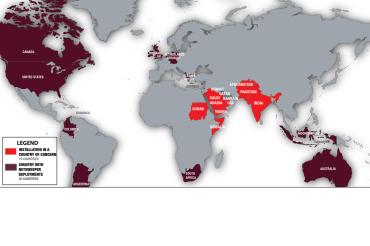 Ten countries around the globe are using internet-filtering technology developed by a Canadian company to censor news, religious topics, LGBTQ+ content and political campaigns, says the University of Toronto's Citizen Lab in a report released Wednesday.
Researchers at Citizen Lab, located at the Munk School of Global Affairs, found that technology from Waterloo-based Netsweeper is being used to block access to a wide range of digital content in Afghanistan, Bahrain, India, Kuwait, Pakistan, Qatar, Somalia, Sudan, the United Arab Emirates and Yemen.
This includes targeting religious material and an LGBTQ website in Bahrain, political campaigns in the United Arab Emirates, a matrimonial dating website in Afghanistan, sex education websites in Sudan, the World Health Organization's website including sub-pages about HIV/AIDS information in Kuwait, websites in India related to the Rohingya refugee issue and the deaths of Muslims in India and Myanmar, and news websites in Yemen.
"Access to information is a human right recognized under international law – yet one that many governments defy in practice through extensive internet censorship," writes Professor Ron Deibert, director of the Citizen Lab on his blog. "By facilitating these practices, Netsweeper is profiting from the dark curtain being drawn over the internet for a large number of users around the world."
CBC News reports that the online discussion forum of popular UAE activist Ahmed Mansoor, who has been held in solitary confinement for more than a year for criticism of UAE's human rights record, was also blocked using Netsweeper.
With Canada having international obligations to protect human rights and the responsibility to set clear human rights expectations for businesses operating abroad, Citizen Lab is calling on the government to regulate the export of network-filtering technology and use mandated transparency reports, financial incentives and funding for research to encourage better human rights practices.
In Planet Netsweeper, researchers looked at the proliferation of Netsweeper's Internet filtering technology in 30 countries and then focused in on 10 of those countries with significant human rights, insecurity, or public policy issues. They found that Netsweeper's internet-filtering service works by categorizing internet content, and then providing customers with options to choose categories they wish to block.
Citizen Lab has been investigating the use of Netsweeper technology since 2011, releasing various reports on censoring content in countries like Pakistan, Yemen, Somalia, Bahrain and UAE.
In a letter provided to Citizen Lab and included in the report, Netsweeper says it can not prevent an end-user from manually overriding its software.
The regulations suggested by Citizen Lab, the company states, "would be the full-scale shut down of the internet in multiple jurisdictions worldwide."
UTC