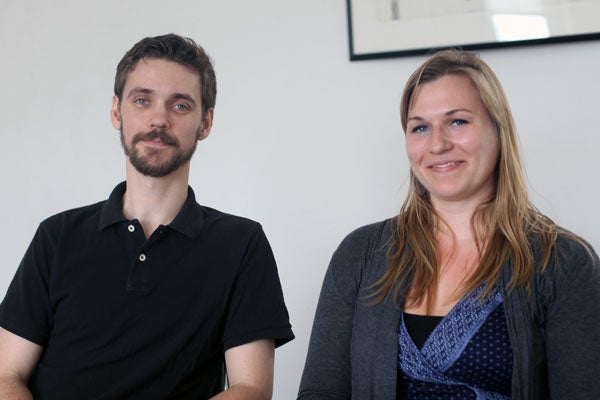 Canadian business underperforming in Asia, U of T students say
Munk School of Global Affairs graduate students develop interactive map
Canadian businesses are underperforming in the crucial Asian marketplace, according to an innovative interactive map developed by four Munk School of Global Affairs graduate students.
The mapping project, called CANASIA Footprint, was supervised by Munk School visiting senior fellow Deanna Horton, a former Canadian ambassador to Vietnam. Horton, who had created a similar map focussing on the United States while working at the Canadian embassy in Washington, says the Canasian map is just the first step in a much larger project to map the world.
The four students – Rory Johnston, Sarah Misu Lee, Sarah Mistak and Sean Tyler – created the map by aggregating and analyzing publically available national and corporate data in 16 Asian countries, and comparing the results to countries such as the United States, Australia, France, Germany and the United Kingdom.
Among the findings:
Canadian exports to the 16 Asian countries have doubled in the past 10 years, but still only account for 2.5 per cent of Canadian Gross Domestic Product, compared to 5.5 per cent for Germany and 12.9 per cent for Australia
Canada ranks last in terms of foreign direct investment to the region
Canada has a significant educational presence in Aisa, but it isn't coordinated and there is no long-term growth strategy
Canadian companies are particularly successful in information and communications technology (ICT)
The students warn that "Canada is well behind its competitors in trade and direct investment. Canadian companies do have a large physical presence, but this could be expanded beyond the small number of large firms and beyond traditional commercial hubs.
"Canada is doing well but it can do better," they conclude.
Mistak and Tyler discussed their findings with U of T News writer Terry Lavender recently.
Why is it important for Canada to be involved in Asia?
Mistak: this is the fastest growing region in the world right now in terms of the economy. In terms of population, it encompasses over half of the entire world. It's probably one of the most diverse. We're not leveraging the opportunities there, especially since Canada has some unique advantages compared to our competitors – we're bilingual, we have education available in a lot of in-demand industries in the region – but we're just not doing anything about it.
How can the Canasian map benefit Canadian businesses?
Tyler: For Canadian business, it's definitely a story of being quite selective about where you're going and seeing the benefits and costs of doing it. It really depends on the sector you're in. For example, if you're in the ICT sector, you could see that there is a strong Canadian presence in that field. That would give you encouragement and give you possible partners to build with.
Mistak: Companies can use the map and say "Who are our main competitors in the area? What are they doing?" At a company level you could take it to a meeting and say "Look, they've got a significant expansion within the region; why are they in Brunei, but we're not? We're providing the same type of service."
Were you surprised by the results?
Tyler: One of the things that surprised us was that Canada has particular strengths in information and communications technology. We knew that Canada had a strong presence in resources and energy, mining and things like that, but what's quite surprising is the number of firms active in ICT -- both in hardware and software.
However, I was a little disappointed by the investment data, the fact that we were last in terms of foreign direct investment.  We have improved over the past 10 years, but I was hoping that we wouldn't be last.
What has the reaction been to your report?
Mistak: We were happily surprised. We've had a lot of interest. Companies are interested, and trade promotion people are interested.  We've presented to the Canadian Council of Chief Executives and the Canada-China Business Council. We've had feedback from the chief of the Asia-Pacific Foundation.
Where does the project go from here?
Mistak: Another group of students will take over the project in September. Where it goes from there will depend on what Deanna is able to achieve this summer in terms of funding and resources. I know that she's looking at plotting direct air routes, shipping routes and that type of information, and flushing out the ICT data – what exactly are companies doing, because a lot of people have picked up on that and a lot of people had no idea that information and communications technology was so important.
The full report, Mapping Canada's Footprint in Asia, can be found at http://munkschool.utoronto.ca/research/mapping-canadas-footprint-in-asi…