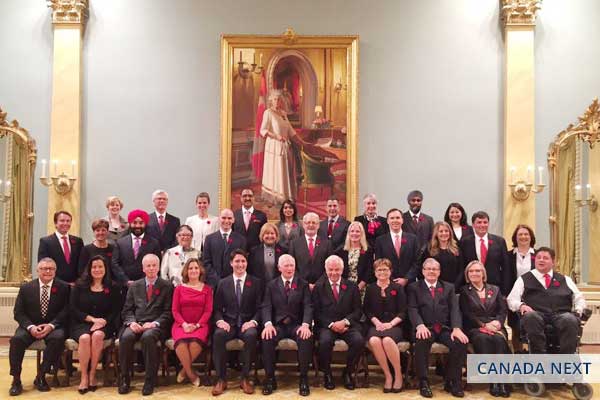 Canada Next: what the new cabinet says about the country's future
David Soberman: "Typically this country has been run by white males. The reality is that white males represent a minority of the Canadian population."
The swearing-in of a new federal cabinet is the beginning of a massive shift in the way Canada will be governed, several experts at the University of Toronto say.
U of T News interviewed the professors after Justin Trudeau was sworn in as prime minister at Rideau Hall on Nov. 4, followed by 30 members of his cabinet.
Providing analysis of the new government were Tony Dean, a professor in the teaching stream at the School of Public Policy and Governance, Robert Schertzer, an associate professor in the department of political science and Professor David Soberman of U of T's Rotman School of Management.
Dean, a former secretary of the Ontario cabinet and head of the Ontario Public Service, said "I think we've seen today an affirmation of the signals that were sent during the election campaign and election night – a government with a completely different style, one that is more open and inclusive. That is a decision only a prime minister can make."
The practical application of that, Dean said, will see "the government engaging with more people, the civil service and communities across Canada" when it comes to formulating new policy.
"That is a very fresh and exciting message that will be well received by federal public servants."
Dean said Trudeau's plans constitute a "shift back to the more traditional way of governing, both internally and externally" allowing Canadians "to help the government in [policy] breakthroughs."  
He was particularly pleased at the make-up of the cabinet committees, including one on diversity and inclusion. Not only did Trudeau appoint 15 women to cabinet, important portfolios went to visible minorities and First Nations representatives, including Harjit Sajjan in defence and Jody Wilson-Raybould in justice.
Considering the ties between Trudeau's office and the U of T, including alumna Katie Telford – the new PM's chief of staff – Dean predicted that the government will be offering employment to graduates of political sciences programs here. 
Schertzer, who served as chair of the Association for the Study of Ethnicity and Nationalism in 2009-10, said Trudeau's statement that "government by cabinet is back" means cabinet ministers will be in the spotlight on some major issues, with much more independence than under the Stephen Harper government.
The new cabinet contains five U of T alumni – Dr. Jane Philpott is Minster of Health; Catherine McKenna is Minister of the Environment and Climate Change; Kirsty Duncan is Minister of Science; Dr. Carolyn Bennett is Minister of Indigenous and Northern Affairs and Dominic LeBlanc is Government House Leader. 
"It is a strong front bench," Schertzer said. "The cabinet is certainly younger and gender equity was a driving force" behind Trudeau's choices. Many good people were left out but other jobs remain available, including junior positions such as cabinet secretaries (parliamentary assistants who often respond in Question Period when the ministers aren't available).
Trudeau's commitment to consult widely, including such things as inviting the provincial premiers to accompany him to Paris at the end of the month for a climate change conference, is laudable, but Schertzer said "consultations can get complex very fast" given the lack of consensus on some major issues.
Trudeau said after the swearing-in that the cabinet "is what Canada looks like."
Soberman agreed, saying "this is one of the most diverse cabinets in Canadian history. Typically this country has been run by white males. The reality is that white males represent a minority of the Canadian population and having a cabinet that is more representative in terms of gender and aboriginal people (among other things) is wonderful. Having a cabinet that is more representative of Canadians will tend to be more sensitive to the needs of groups who historically have suffered."
Soberman said "the cabinet is geographically balanced (every province and one minister from Nunavut) and this is a benefit of having strong representation across the country. While the Liberals have most of their seats from Central Canada and the East Coast, they have 50 seats west of Ontario and this only marginally less than the number held by the Conservatives. The cabinet is more diverse in terms of the professions that people have. There are also fewer career politicians by virtue of having so many new faces in Parliament. Other professions are represented (journalists, teachers, soldiers, and astronauts, for example) in addition to lawyers who historically have made up a significant percentage of cabinet ministers."
It is noteworthy, Soberman said "that Wilson-Raybould, a former B.C. regional First Nations chief was made the Minister of Justice and Attorney General. It is important that Trudeau chose a First Nations person to handle a portfolio with many challenging issues that directly involve First Nation people including continuing investigations into the residential schools, police treatment of First Nations people or the investigation of missing First Nations women. I think this is a good thing."
Trudeau kept two portfolios for himself: Youth and Intergovernmental Affairs.
"Keeping these as part of the prime minister's responsibility underlines how important these roles are to him," Soberman said. "First, Trudeau won the election largely because of strong support from young voters, he himself is one of our youngest prime ministers and he is committed to making government policy more sensitive to the needs of youth. 
"Secondly  I think that intergovernmental affairs have been frosty under Harper especially with [Ontario] Premier Kathleen Wynne, the leader of Canada's most populous province and second with the new NDP premier of Alberta, Rachel Notley. By taking on this role himself, he is giving people the message that he wants to have a more cooperative working relationship with the provinces."