Canada helps train the world's tech talent – now it has to keep it here: U of T expert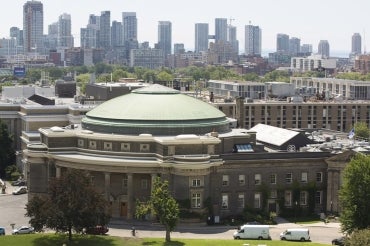 Illan Kramer, the University of Toronto's director of international research partnerships, remembers what it was like to do his PhD in engineering at U of T from 2008 to 2013.
"There I was, surrounded by some of the smartest people one could ever hope to meet: I worked alongside graduate students from Greece, Iran, Italy, Germany, Mexico, China and, of course, Canada; postdoctoral fellows from the United States, Turkey, Brazil, Thailand, Bangladesh and Britain, and research scientists from Kazakhstan, the Netherlands and Serbia. My lab was a scientific United Nations."
The problem, he writes in a Globe and Mail op-ed, is that after those graduate students received their PhDs, they had to leave to find jobs. "Canadian PhD holders have been in such high demand that they would get recruited to high-value jobs with the biggest and most exciting companies. Most of those jobs weren't here at the time."
Kramer argues that Canada must keep working to keep the massive pool of talent we already attract here – he calls U of T perhaps "the single biggest IQ aggregator in North America, if not the world" – by fostering a robust, knowledge-based ecosystem that contains both major multinationals and burgeoning startups.
That is why he believes Canadian cities were right to put together pitches for Amazon's second headquarters, dubbed HQ2. He understands the fear that Amazon will scoop up local talent, but in the long run, "Amazons beget Amazons: it's not accidental that when Apple, Intel and Hewlett-Packard started lighting up Silicon Valley, Google, Facebook and Uber eventually started there, too."
Kramer writes that Toronto is having an international moment – in fields from artificial intelligence to advanced manufacturing and regenerative medicine – with companies not only looking to recruit here, but deciding to set up here.  
"This influx of R&D jobs makes possible ever-more ambitious talent-growth opportunities," he writes. "A decade ago, Toronto would have struggled to make a case as a home for tens of thousands of new technology jobs; finally, Toronto can credibly go after an HQ2."
UTC