Canada 150: U of T's Fisher Library exhibit tracks Canada's struggles to become a 'welcoming place'
"It puts the lie to the idea that Canada has always been a welcoming place. It's been a struggle to be a welcoming place and the documents we've preserved here show that"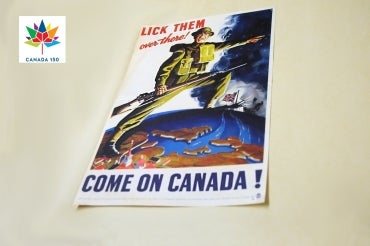 At a time of global unrest and uncertainty, Canada is often touted as an example of peace and inclusion. But, the journey to get to where it is today hasn't always been a smooth one.
University of Toronto's Thomas Fisher Rare Book Library is exploring the ups and downs of Canada's history over the past 150 years in an exhibit starting Monday called "Struggle and Story: Canada in Print." 
"The theme that kept coming out over and over again as I was assembling these materials is that this country has been a struggle from the beginning," says reference librarian P.J. Carefoote, who curated the exhibit.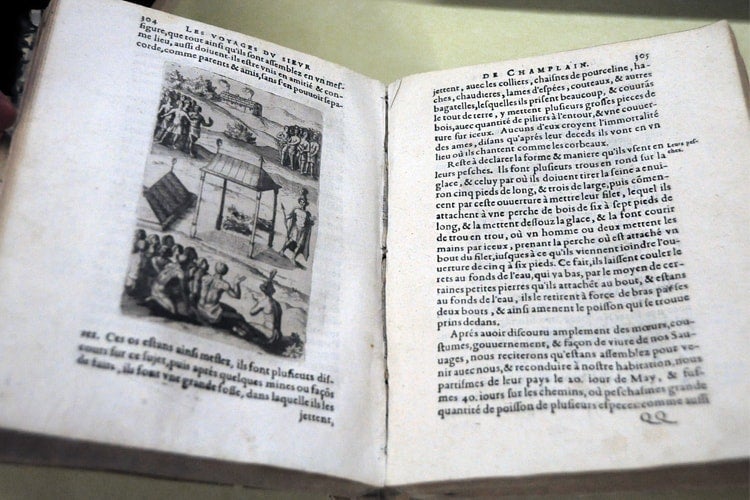 Samuel de Champlain's book chronicling his voyage to what was then called "New France," written in 1632. 
He says it begins with the first Europeans to land on Canada's shores who had to face the country's harsh climate and geography.
"It's them trying to make sense of this huge mass of land that they think keeps going on and on and on," says Carefoote.
The exhibit goes on to explore the settlers' relationships with Indigenous peoples and the violent clashes between the English and French, as well as the United States, culminating in Canada's fight to become a nation.
"There were all sorts of movements – political and economic – that forced Canadians to look to one another and say, 'What do you think, should we survive or not?'" says Carefoote.


The magazine Canadian Pictorial & Illustrated War News depicted Métis leader Louis Riel's (centre of image) rebellion in Saskatchewan and Manitoba. While this image is more dignified, many of the images of Riel and his followers are "pretty inflammatory," says Carefoote (photo by Romi Levine) 
The story of Canada's past, however, isn't complete without documenting the immigrant experience, and the struggle immigrants have faced – and often still face – to be accepted.
"It's example after example – manuscripts and a few printed works – of waves of people who have come to this nation in the hope of finding a place to belong, and very often being rejected at the beginning," says Carefoote. "It puts the lie to the idea that Canada has always been a welcoming place. It's been a struggle to be a welcoming place and the documents we've preserved here show that."

Over 100 black men in Hamilton signed a petition in the 1840s to prevent a man who escaped slavery from being sent back to the United States. Unfortunately, the petition was not successful. "The new governor of Canada was afraid of upsetting the Americans so he sent the man back," says Carefoote (photo by Romi Levine)
The challenge with creating an exhibit on Canada's history is that there isn't enough documentation to ensure everyone's voice is heard and included, says Carefoote.
"What is left out sometimes reminds us of the other struggles that are involved in Canada's history," he says. "For example, the voices of women in the early period of history through to the First World War are not documented that well. So, you don't hear their voices clearly in an exhibition like this. The same with our Aboriginal peoples."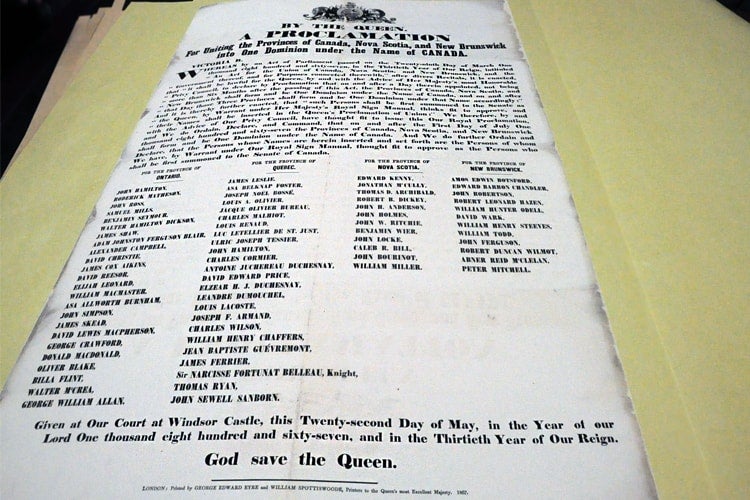 A rare copy of Queen Victoria's 1867 proclamation recognizing Canada as a nation. "This was put up in Scotland. It was the only one that's known to survive from outside of Canada," says Carefoote (photo by Romi Levine) 
While we're better off than ever before, Canada still continues to struggle with many aspects of its identity, says Carefoote.
"But I think that's a good thing. You only struggle for something you really care about so I hope we keep on struggling," he says. 
The exhibit runs through Sept. 9.
UTC