General James Wolfe's personal letters are housed at the Thomas Fisher Rare Books Library (photo courtesy of University of Toronto Libraries)
Thomas Fisher Rare Books Library's collection of General James Wolfe's personal letters are at the heart of a new book, which reveals a creative, melancholic side to the British army commander known for his military might.
Last week at the university's 23rd annual George Kiddell Memorial Lecture, "Who's Afraid of General Wolfe? Adventures in archives and authorship," retired U of T librarian Anne Dondertman and author Kathleen Winter talked about new insights revealed in Wolfe's letters.
Winter is the author of a forthcoming novel about Wolfe called Lost in September. The book, focusing on Wolfe's life, including his capture of Quebec in the Battle of the Plains of Abraham, used many of the letters in Fisher's collection, which were acquired by Dondertman in 2013.
"Admittedly, not celebrated nor admired in Quebec, Wolfe is indisputably a pivotal figure in Canadian history," said Dondertman.
Winter said that even today mentioning Wolfe's name in her home province of Quebec can stir up intense emotion and heated debates.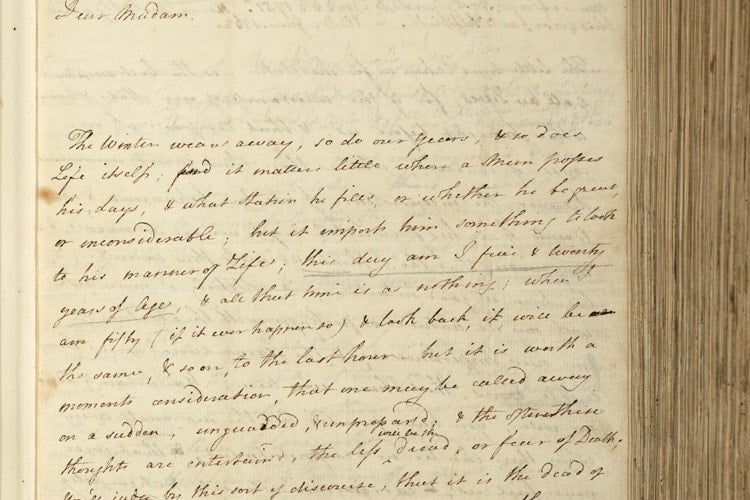 A letter by General Wolfe in the Fisher collection (photo courtesy of U of T Libraries)
Wolfe's military career – and personal life – is documented in hundreds of letters he wrote to his mother and father from the battlefields, between 1740 and 1759. He led a victory over the French to capture Quebec before dying from musket shot wounds. He was only 32.
Dondertman talked about what it took to get the "Wolfe papers" to Fisher. 
She said when the letters came up for sale at Christie's auction house in London, U.K., she knew that it would be an important historical collection for U of T – and Canada. Dondertman said she spent several months raising the £900,000 (approximately CAD$1.5 million) required to purchase the letters. With the philanthropic support of Helmhorst Investment Limited and assistance from a Moveable Cultural Property grant from the federal government, the funds came through, and Dondertman's team was on its way to buying the letters.
There was just one more obstacle.
Dondertman said that because Wolfe was British, some people such as Antonia Fraser – the British author of history, novels and biographies – felt the letters should remain in Britain. Dondertman said she gathered letters to support U of T's purchase including one from Canadian historian and former U of T professor Margaret MacMillan.
Finally on Nov. 4, 2013, the letters arrived at U of T in a large crate from Christie's.
"It was a red letter day," said Dondertman.
Retired U of T librarian Anne Dondertman reading Wolfe's letters (photo by Megan Campbell)
Dondertman said her favourite letter is the one Wolfe wrote to his mother on his 25th birthday. By then Wolfe had witnessed many horrors of war in Europe, he had lost his brother on the battlefield and had to give up the woman he was courting because his parents rejected her. He even writes about his own fears of dying in war.
"The less these thoughts are entertained the less will be the dread or fear of death," Wolfe writes in a letter. "You'll judge by this sort of discourse that it is the dead of night and all is quiet and at rest, and one of those intervals wherein men think of what they really are and what they really should be, how much is expected and how little performed."
"He's only 25, and all these things have already happened to him," said Dondertman.
Winter said she knew very little about Wolfe before researching the book.
 "I almost had a sense of him as a paper doll on a stick going through the siege and going to the Foulon and the lines of battle," she said.
But upon reading Wolfe's many personal letters Winter said she came away with a different understanding of the British military figure. She said details like Wolfe's love of the sweet tiny wild strawberries on the banks of the St. Lawrence River, his love of dogs and his obession with not losing his focus are details that are revealed in the letters.
Winter is also struck by his melancholy and temperament and the accounts of all the horrors of war.
"It gives the whole subject an emotional quality that I've been honoured to explore," she said.
Lost in September will be released in September 2017.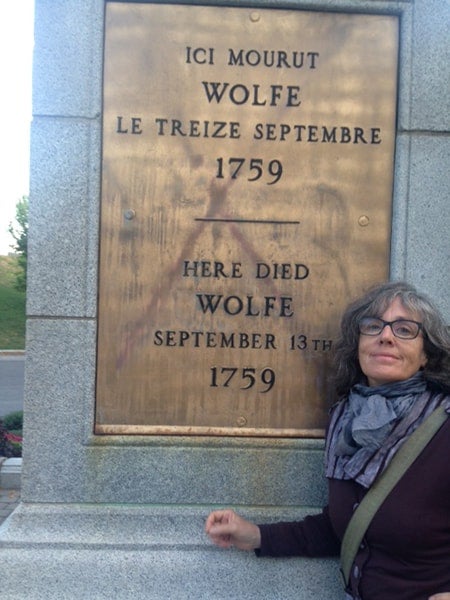 Author Kathleen Winter by a plaque marking where Wolfe was killed in 1759 (photo by Jean Dandenault)