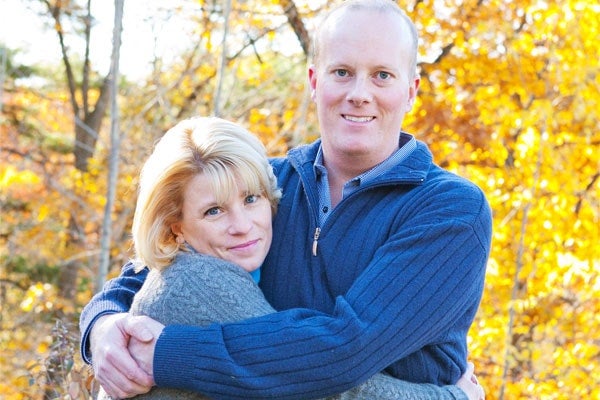 Campus couple balances challenges of work, home
Kelley and Sargent enjoy both research collaborations, family time
With Valentine's Day upon us, couples everywhere reflect on what keeps a partnership strong. Shana Kelley, a professor at the University of Toronto's Leslie Dan Faculty of Pharmacy and Ted Sargent, a professor at the Edward S. Rogers Department of Computer and Electrical Engineering, have not only mastered their collaboration on campus, but also as life partners for the last seven years. U of T News had the chance to ask this couple a little about what it's like to work together both on and off the job.

How did you meet?
Ted: We met at a nanotechnology conference that was being held at UC Irvine. Shana was chairing the session I was in, and there was something about her that caught my eye. She looked then as she looks now – like the quintessential girl I used to draw when I was in grade school, where I used a yellow crayon for a little bit of hair with a curl in it and a blue crayon for pretty blue eyes. So she was my canonical pretty girl/ attractive woman.

Shana: We met at a nanotechnology conference on the West Coast. We quickly realized that we had aligned scientific interests, so it was easy to think of ways to collaborate scientifically right away.  Before long, I realized that Ted was interested in other kinds of "collaboration" as well.

What is it like working in the same workplace? Does it ever pose challenges?
Ted: It's fun.  We were very fortunate to both be at U of T.  An important part of the relationship is the scientific side of it. We're both passionate about the same things, we have common values.  We do collaborative things on campus together.

We've never encountered any challenges probably because we're much aligned. When you're collaborating you have to work on that relationship, too, and be respectful. We're both very good at that, and we think it's important to do that. So far, I think both of our careers have improved and we've done work that's more exciting and interdisciplinary as a result of working together many years ago.

Shana: We really enjoy working together. We run several collaborative research projects, and these are some of our favourite activities. We're a very balanced team in terms of personality and scientific expertise, so it works well for us.  Ted and I also really like being part of the same community – it's nice for each of us to be able to appreciate the details of the other is doing day-to-day at U of T.  So I think we both see it as a wonderful thing to work the same place rather than a challenge.

What is it like to have two strong careers in one household?
Ted: We have a pretty clear division of the hours of the day into family time vs. work time. Sometimes those rules have to be bent, and we are good at figuring out when this needs to happen. For example, Shana's traveling at the moment, and it's typical for one of us to have to go out of town during any given week, so the other one then has extra family duty.

Having both of us in academics requires symmetry in our relationship. It's a partnership of equals but that's not to say that we're both doing equal things at any given time.

Shana: We're very committed to one another and our family, so we're able to prioritize the different things we may both be doing.  It does take co-ordination and lots of communication, especially when it comes to travelling. We always have to check with one another before agreeing to commitments so we're not both off somewhere at the same time. We're both very supportive of each other's careers so it's easy to make the needed sacrifices or compromises.

What is your drive to work like? Do you talk about work?
Ted: What we do during the day is pretty integral to what we do and who we are. So it wouldn't occur to us to not talk about work. A lot of it is about the research that we're doing, whether together or separately. 

Shana: We come in together – we even walk to work when the weather is good to have some extra time together. We talk about work and our research projects lots, and then also things at home that are come up, like projects around the house or funny things our boys are doing.

What is meal time like in your house?
Ted: Dinner time is two separate slots -- one for the kids and one for us, which is later. I love to cook, and we go back and forth. We love sushi so there's no cooking then and we'll have that once or twice a week.

Shana:  Our boys are young, 2 and 4, so they eat quite early, and then we have dinner after they are in bed. This lets the two of us have some nice quality time later in the evening and gives us quality time with the boys.

What makes a strong marriage?
Ted: It's a combination of feeling completed by this person you love, but at the same time feeling you have a mutual understanding and alignment of values.

Shana: Ted and I really enjoy each other's company, and we almost always see challenges we confront the same way. This makes the relationship very strong in good times and able to weather difficulties that comes up. 

What do you love most about your partner?
Ted: I really admire her, her mind and her clear thinking. I find qualities in her that I find missing in myself. I feel that being with her completes me. There are a lot of qualities that we share. We really value clear thinking, productivity and hard work and creativity.

Shana: Ted is a wonderful companion. He's so smart and has a wonderful sense of humour.  And he is an amazing dad – he is so patient and attentive to our boys. I'm constantly inspired by what he is able to do at home and at work.