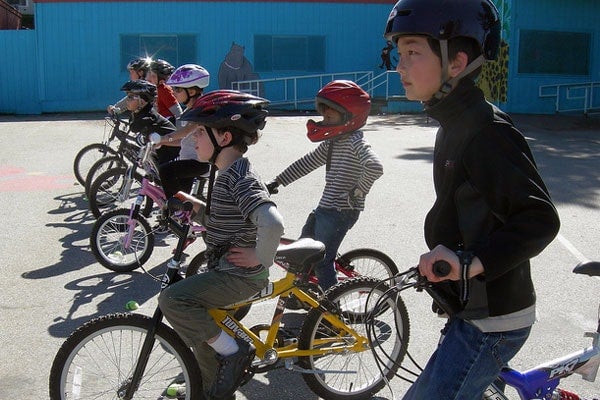 Building healthier cities and communities, one collaboration at a time
They are projects aimed at fostering a sense of community for people in apartment towers, making it safer for kids to bike and walk to school in rush hour – and helping homeless people deal with extreme temperatures while living on the city streets.  
On May 29, those initiatives got a boost from U of T's Dalla Lana School of Public Health, the Wellesley Institute and Toronto Public Health through a collaboration called the Healthier Cities & Communities Hub.
A total of nine projects by community, public sector and university collaborators received research grants from the Hub to address what are known as the social determinants of health.
"More than half of the world's population lives in urban areas, and as more people migrate to cities to seek employment, public health professionals must be thinking about ways to ensure that those cities promote health equity for citizens," said Professor Dan Sellen (pictured at left) associate dean of research at the Dalla Lana School of Public Health.
"Health inequities persist in the GTA. That's why these partner-based, solutions-focused research projects are so crucial."
In April 2015, public health and community engagement leaders from the Dalla Lana School of Public Health, the Wellesley Institute and Toronto Public Health reviewed 30 grant applications related to creating resilient cities, the built environment and health and place-based interventions.  
"Our innovative grant scheme will bring academics and communities together to improve the health of Torontonians. We need everyone working side by side if we are going to meet the challenges we face," said Dr. Kwame McKenzie, CEO of Wellesley Institute.
The grants are enabled by the Healthier Cities and Communities Hub as part of its mission to improve urban and community health locally and beyond. Project teams unite experts from diverse fields, including leaders in community based and public service organizations, architecture, business, medicine, engineering and public health who proposed innovative projects that will help generate solutions to health challenges faced by many people in the GTA. 
"The healthier cities and communities hub and its seed grant program strengthens connections between community organizations, academics and the public sector," said Monica Campbell, director of Healthy Public Policy at Toronto Public Health.  
"The hub and the seed grant will support research on vital public health policies and programs aimed at improving health and equity in the Toronto region. Toronto Public Health is pleased to contribute funds and in-kind support to this important initiative," Campbell continued, who is also an assistant professor in the Dalla Lana School of Public Health's occupational and environmental health division.
A workshop is planned for April 2016 where projects leaders will share and discuss their preliminary findings with a range of stakeholders across the city. 
Here are the funded projects and leaders:
Developing a framework to evaluate the health impacts of apartment neighbourhood improvement initiatives such as the Tower Renewal Program in Toronto, led by Roshanak Mehdipanah, Monica Campbell, James Dunn, Graeme Stewart (Urbana Solutions +  and Toronto Public Health)
Falling through the Cracks in Employment Services: Improving Social Well-Being through Community-Based Youth Employment Solutions, led by William Sinclair (St. Stephen's Community House)
Green Access Action Research (GreenAAR) Project: Building Local Environmental Leadership to Promote Green Living and Food Security: a place-based pilot initiative in the Taylor Massey neighborhood, led by Yogendra Shakya and Akm Alamgir (Access Alliance Multicultural Health and Community Services)
Creating a 'Town Centre' in a Tower Neighbourhood, led by Nancy Smith Lea and Car Martin (Toronto Centre for Active Transportation / Clean Air Partnership)
Understanding the health impact of extreme temperatures on homeless populations with a view to enhancing Toronto's extreme weather plans and responses: developing a research proposal, led by Kate Bassil and Stephen Hwang (Toronto Public Health and St. Michael's Hospital)
A Guide to Safer Streets near Schools, led by Katie Wittman (Green Communities Canada and Dalla Lana School of Public Health)
Promoting Resilient Relationships among Newcomer Youth, led by Chris Rahim and Lisa Randall (METRAC: Action on Violence)
Building Roads Together: Evaluating, Enhancing, and Expanding a Walk and Roll Peer Support Program, led by Farah Naaz Mawani and Susan Lynn Hardie (Farahway Global, Centre for Social Innovation - Regent Park and Dalla Lana School of Public Health)
Building the economic resiliency of communities: Exploring the acceptability and feasibility of establishing a time bank in St. James Town, led by Andrew Pinto (St. Michael's Hospital)