'Brutalist'? Architect behind U of T Scarborough's Science and Humanities Wing didn't think so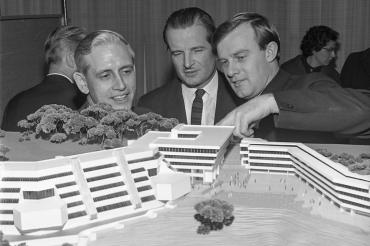 U of T Scarborough's first building – the Science and Humanities Wing, also known informally as the Andrews Building – awed visitors to the new campus when it opened in 1966. The Ottawa Citizen likened it to "a Babylonian ziggurat, perhaps, or a pyramid from Aztec Mexico."
Today, the building often appears on lists of Brutalist landmarks in Canada and, in 2017, was used as a moody backdrop for The Weeknd's "Secrets" music video. 
Though it has become an icon of Brutalism, John Andrews, the late architect who designed the building, bristled at the term. "It isn't brutal. Scarborough College is a very human building," he once told UTSC Commons.
Andrews, who taught at U of T from 1963 to 1967, was tapped to design a building for what was then Scarborough College. Completed in 1966, it captured worldwide attention and was widely considered an innovative project, celebrated by architecture critics – and even making the cover of TIME magazine in January 1967.
Andrews, a former chair of U of T's department of architecture (the precursor to the John H. Daniels Faculty of Architecture, Landscape and Design), was later part of the design team behind the CN Tower. 
Born in Sydney, Australia in 1933, Andrews completed his bachelor of architecture degree at Sydney University, and in 1957 entered the masters of architecture program at Harvard University. He went on to establish John Andrews Architects in Toronto in the 1960s while working as a part-time lecturer at U of T. He also designed buildings for the University of Guelph, Brock University and the University of Western Ontario.
In light of Andrews' death last week at the age of 88, U of T News is resharing the UTSC Commons article in which Andrews shared his perspective on the Science and Humanities Wing's design.
---
If you've read anything about the architecture of U of T Scarborough's first building, the Science and Humanities Wing, you've probably seen its style described as "Brutalist," a movement that saw the construction of such large, all-concrete structures from the 1950s to the 1970s.
Just don't use the term when you talk to John Andrews, the man who in 1964 designed what was then Scarborough College.
"I object quite strongly to the word 'brutalist'," says the 80-year-old architect from his home in Orange, Australia. "It isn't brutal. Scarborough College is a very human building."
Andrews was just 29 and a practising architect, as well as a part-time U of T architecture professor, when President Claude Bissell asked him to oversee the design of a new campus on 202 acres of land the university had just purchased in Scarborough's Highland Creek Valley.
Bissell expected him to build in the valley. The first thing Andrews did was consult climatologist Fred Watts, a geographer and founding member of the college.
"His information turned out to be incredibly important, because as he pointed out, the buildings in the bottom of the valley had a very late sunrise and an early sunset," he says.
So the university agreed to locate the campus at the top of the valley, overlooking Highland Creek. Now, what to build? Again, climate played a key role.
"When you look at the university year in Toronto, it's bloody cold for most of it," says Andrews. "There was no doubt in my mind that this shouldn't be a series of isolated building blocks where you had to trudge through the snow to get from Science to Humanities. It ought to be one continuous building. Once you took your coat off, it could stay off."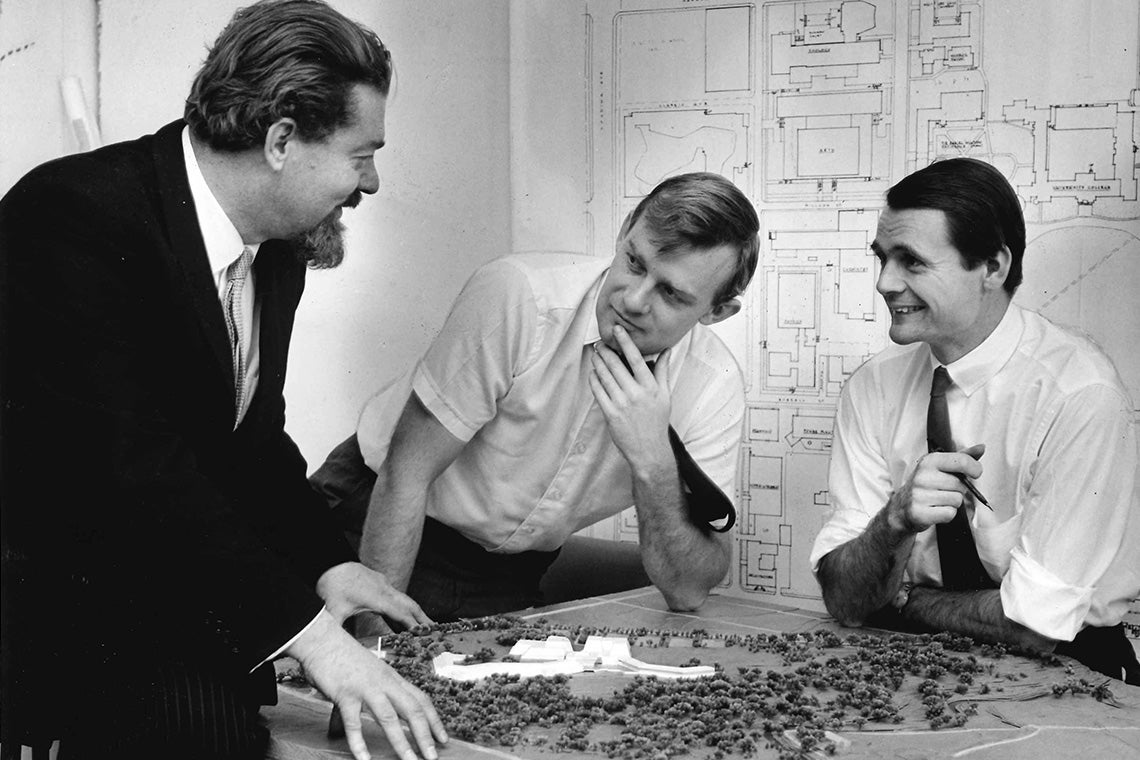 Left to right: town planner Michael Hugo-Brunt, architect John Andrews and landscape architect Michael Hough. 
That led Andrews to create what he calls the pedestrian circulation streets along the ground floors of each wing, allowing students to move easily to classrooms, stairs, elevators and to the Meeting Place in the middle. And to build it all in the allotted time – little more than a year – he designed the massive structure using poured concrete. "It was the only material that was capable of forming the continuous floors and the continuous walls."
Practicality was important, but the design also had an artistic purpose. "I was expressing the continuity of teaching – that everything was connected," Andrews says. 
The building opened in early 1966 to international acclaim. Andrews went on to design Toronto's CN Tower and Harvard's Graduate School of Design, both in concrete, before returning to Australia in 1969.
Still consulting, he concedes that Brutalism is a word "I've been tagged with."
What would he prefer? "If there was such a word, 'appropriatism.' What I'm always trying to do is find the logical answer to things, and at the time when I was, if you like, being brutal, it was the logical answer."
UTC