Bruce Kidd: Toronto needs to take Scarborough seriously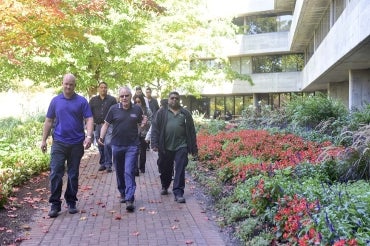 Bruce Kidd has heard the jokes about Scarborough – "Scarberia," land of strip malls and stabbings – and he doesn't think they're fair or funny.
Kidd, vice-president of University of Toronto and principal of U of T Scarborough, says Torontonians need to rethink the old jokes and how they view Scarborough. He tells the Globe and Mail that the Scarborough he knows is vibrant, ambitious – and diverse.
At the U of T Scarborough campus, most of the 14,000 students are from immigrant families, he says. About 20 per cent are international students.
"This is not a party school. This is a school of ambition," Kidd tells the Globe. "They want to start their careers, start companies, get jobs.
"There is just a tremendous amount of energy."
As for the Scarborough and Scarberia jokes: "People who say those things miss the essence of what is happening out here. It's an extraordinary social experiment."
And that is why Scarborough should get more of the city's attention, he says. Too much of the city's time, energy and money is focused on downtown.
If Toronto's great experiment is going to succeed, he says, it needs to invest in Scarborough and places like it.
He says he is troubled the ugly, divisive politics of the times and the rising xenophobia. But, "on this campus, I see the alternative being lived in these helpful, thoughtful, considerate young people. It gives me encouragement and hope every day."
UTC