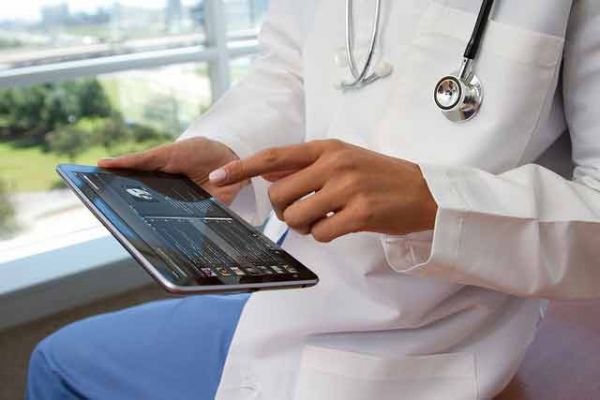 Computing for Medicine: coding, data mining for med students
Faculty of Medicine, department of computer science collaborate on new course
Picture two groups, both eager to work toward a shared goal, but speaking two different languages and with no translators in sight.
This has been the challenge for physicians and technology developers, who have been trying to collaborate on creative solutions to improve our health care system.
"You have physicians, who understand what they need, but not how the technology works or how to harness it," explains Professor Marcus Law, director of Preclerkship Renewal and Academic Innovation at U of T's Faculty of Medicine.
"On the other side, you have programmers and developers who understand the technology, but not how it can be applied in clinical settings."
To bridge the divide, Law has created a course for first-year and second-year medical students that gives them the knowledge they need to talk tech with developers. Computing for Medicine was launched in late February and has received an overwhelming response.
The 61 students range widely in computer literacy. Some have little to no familiarity with programming. Others gained experience through high school or university courses.
Roland S. Xu, a second-year MD student, enrolled with no previous computer training.
"During our medical training, we study the language of medicine to learn how to communicate with members of the medical field and with our patients," Xu says.
"But with the accelerated progress in science and technology, it is becoming more evident that doctors need to communicate with machines as well.
"From your friendly neighborhood family doctor interacting with an electronic medical record (EMR) to the clinician-scientists who are trying to make sense of big data, being able to program will allow us to develop more efficient and accurate methods of data analysis. This will hopefully translate into better care for the patient."
The course, which runs over 14 months, starts with a boot camp in the foundations of coding to bring all students to the same level.
"It is exciting to teach computational ideas to tomorrow's doctors," says Associate Professor, teaching stream Michelle Wahl Craig of computer science.
"The students in the first boot camp have almost no previous coding experience, but they are eager to learn and are following through with the practice that is required."
The boot camp is followed by further coding exercises and seminars on how this knowledge can be applied. Students also have the option of completing a summer research project that that gives them a chance to put their new computing knowledge to practice in a real medical research lab, Craig says.
"What's important about this course isn't just skills development," says Law. "It's teaching students to think in a structured and logical way. That can be applied in a lot of different settings.
"Coding is already being taught in middle school. We need to ensure that today's students are as prepared to harness technology as the generations that will follow them."
Professor Trevor Young, dean of Medicine, says the course is made possible by the cross-disciplinary collaboration that is encouraged at U of T. 
"The department of computer science has been a critical partner in the development and delivery of this new course. I am very thankful for the support from the chair of computer science, Professor Ravin Balakrishnan, as well as Associate Professor, teaching stream Michelle Wahl Craig and  Lecturer Michael Guerzhoy, who are helping us deliver it."
Xu is now immersed in the programming boot camp, which he likens to learning a sport. "Understanding the theory isn't all that difficult, but just like with sports, it takes time and practice to get better," he says.
He intends to apply his new knowledge to research and data mining.
"The field of basic-science research is changing and the data sets we obtain from our experiments are growing exponentially in size. I want to explore not only new ways to analyze data but also new ways to present the data to facilitate knowledge translation."
The collaboration with the Faculty of Medicine is the latest in a series of ventures by U of T's computer science department, says Balakrishnan, pointing to department's work with the Faculty of Law on Blue Jay Legal.
"While the department of computer science has a long history of cross-university collaborations spanning decades, these collaborations have become increasingly central to our core mission as computation becomes pervasive across disciplines," Balakrishnan says.
"I am thrilled we are partnering with Medicine to deliver this innovative program, and am thankful to Professor Young and Professor Law for initiating it and for their foresight in recognizing the key role computing will play in medicine in the years ahead."