Brexit vote means uncertain future for Europe and the UK, U of T experts agree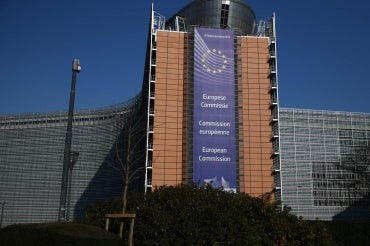 Three months after a small majority voted in favour of the United Kingdom leaving Europe, it's still uncertain how or when Brexit will actually happen, a panel of University of Toronto foreign policy experts concluded at the Munk School of Global Affairs this week.
The panel consisted of professors Randall Hansen and Mel Cappe and Massey College Master Hugh Segal. The moderator was Tom Axworthy, former principal secretary to Prime Minister Pierre Trudeau and a senior fellow at the Munk School and at Massey College. The discussion was organized by Massey College and the Canadian Centre for the Responsibility to Protect.
Cappe (right), a distinguished economist and former High Commissioner for Canada to the United Kingdom, said the full effects of Brexit will not be known for a decade or more. The UK government and its civil servants are faced with a daunting task of devising new regulations and laws to replace European standards.
"All UK government ministries are affected," Cappe said. "They'll have to worry about animal health. They're going to have to have emission standards, they're going to have to have standards on GMOs and pesticides – none of which they have now because those areas were all under the European Union."
Segal, a former member of the Senate and senior political advisor to former Prime Minister Brian Mulroney, agreed that Brexit will take time. "It may take a number of different Acts by the British Parliament to implement." The benefit of this, he said, is that the result may be "a thousand little steps over time that are absorbable by the British economy."
Hansen (left), the director of the Centre for European, Russian and Eurasian Studies at the Munk School, said Brexit would have mixed effects on Europe. On the one hand, it may lead to a more unified Europe: "Brexit has scared a lot of people, so breakup is less likely." On the other hand, "the European Union will be a less liberal place economically."
The three panellists agreed that Canada needs to be strategic about how it reacts to Brexit.
"Canada needs allies and Britain was an important one," Cappe said. "However, Canadian investment in the European Union is important and I think that it will grow at the expense of our investment in Britain."
Hansen said Canada should concentrate on building relations with Germany. "Germany is emerging as the superpower of Europe." At the same time, we need to increase our efforts to build closer relationships with Europe as a whole and with the UK, he said.
However, as Segal (right) noted, it may be difficult for Canada to get the UK's attention for a while.  "All of Whitehall is totally engaged with Brexit. Nobody has time for anything else."
Regardless of how Brexit plays out, the vote was unfortunate, the panellists said.
"There are huge adjustment costs to making this transition and when you get to the new steady state there will be additional costs. It's bad for Britain, it's bad for the European Union, and it's bad for Canada," Cappe said.
Segal agreed. "The only people dancing with joy at Brexit are in the Kremlin."