Breast cancer survivor involved in U of T 'prehab' study shares her story in Washington, D.C.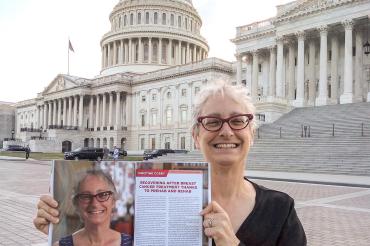 While most people understand the benefits of rehabilitation after an injury, the concept of prehabilitation might be less familiar. A form of resilience building, prehab aims to prevent or minimize the impact of injuries before they occur – in sport, for example, or surgery. 
Priya Brahmbhatt, a master's student of kinesiology at the University of Toronto, compares it to training for a marathon. 

"It's the process of preparing yourself for an upcoming course of treatment or event that you know will cause some sort of impairment to your physical or mental health and well-being," she says.

Brahmbhatt has been working with Assistant Professor Daniel Santa Mina of the Faculty of Kinesiology & Physical Education on a prehab study involving 25 women preparing for breast cancer surgery with exercise. The participants were recruited from the Princess Margaret Cancer Centre and provided with a home-based exercise program. 

The study was the first to examine whether a structured exercise intervention was feasible in the prehab window – the period between the time of diagnosis and the breast cancer surgery.

"We were trying to understand if patients would be willing to participate in prehab, if we would be able to retain them over the course of the study and if they would adhere to their exercise prescriptions," says Brahmbhatt. 

Christine Cosby signed up to be a participant in the study following her diagnosis of stage 3 breast cancer in 2018. 
"I was absolutely happy to do it," she says. "Even though I was extremely stressed, I could see the benefit. Exercise never hurt anyone and it was something I could control when everything else was spinning out of control."  
Two weeks before surgery, Brahmbhatt tested Cosby for her cardio fitness and grip strength and tailored a set of exercises for her. 
"I did five exercises with a resistance band, which I could do at home to build my upper body strength," says Cosby. "I ran up the steps at my neighborhood park for 10 or 20 minutes a day to improve my cardio fitness."
Right before the surgery, she came in for a follow-up. Brahmbhatt repeated the grip strength and cardio fitness measurements, which showed both had improved. 
"I got the measurements and I thought, 'Wow, I made a lot of progress in that short time period,'" says Cosby. "They also tested my body composition, which was neat because I could see that I actually built muscles in that short time. I could see how continued little efforts made a big difference."
That's something Brahmbhatt heard a lot in the interviews she conducted with the study participants, many of whom hadn't experienced structured exercise prior to prehab.
"Some of the common themes that emerged were that exercise helped them regain the feeling of control, set a positive tone for recovery right from the beginning, acted as a positive distraction from the otherwise extremely stressful pre-operative period and helped them be an active participant in their care," she says.
Following her surgery, Santa Mina put Cosby in touch with the American Association of Cancer Research (AACR), which invited her to contribute to its progress report by relating her prehab and rehab experience. She also participated in the Rally on the Hill for Medical Research organized by AACR in Washington, D.C., to lobby politicians for the funding of medical research.
"I shared the story of my experience with prehab and rehab in Canada because everyone benefits from research no matter where in the world it takes place," says Cosby. "It was emotionally difficult to revisit the past one and a half years of cancer diagnosis and treatment, but knowing that my story could help others, I was happy to share it." 
For her part, Brahmbhatt hopes prehabilitation will move the needle from a more reactive, impairment-driven approach to a preparatory model of supportive care. 
"Why are we still waiting for known impairments to occur after treatment instead of potentially preventing them, at least partially, upfront?" she says.
KPE