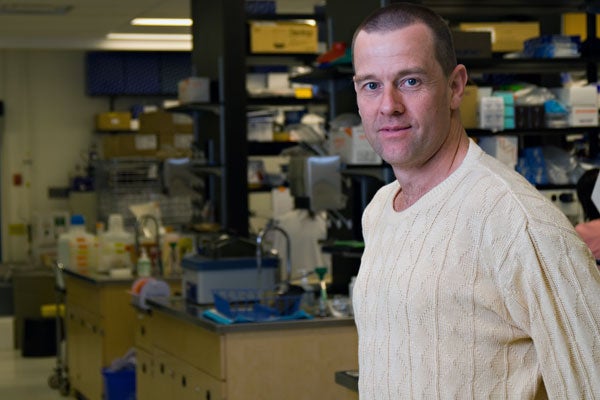 Brazil researchers to join U of T, Oxford scholars in open-source scientific research
Centre will focus on protein kinases
Open-access research into drug discovery has arrived in South America, with a ground-breaking collaboration between leading scientists in North America, Europe and Brazil to provide completely free and open research results to the world.
A US$4.3-million grant from the São Paulo Research Foundation (FAPESP) plus an in-kind contribution of US$1.9 million by The University of Campinas (UNICAMP), totalling US$6.2 million, will establish Brazil's first open-access research facility, the Protein Kinase Chemical Biology Centre at the UNICAMP in Brazil. 
The Centre, led by Professor Paulo Arruda of UNICAMP, will examine the protein kinases in the human genome that are key regulators of RNA biology and epigenetics and explore the application of the new discoveries to plant research.
The new Centre will advance unrestricted discovery as a member of the Structural Genomics Consortium (SGC) – a public-private partnership that supports the discovery of new medicines through open access research – that is based in Oxford and Toronto. (Read more about SCC at the University of Toronto; read about Professor Aled Edwards and his decade-long quest to promote open-access, no-strings medical research.)
"We are especially pleased that this partnership, led by Professor Arruda and UNICAMP, boosts cooperation between internationally-renowned research institutions and the private sector," said Carlos Henrique de Brito Cruz, scientific director of FAPESP. "This paves the way for a vibrant and self-sustaining bioscience cluster that will bring benefits to the State of São Paulo and to Brazil." 
Researchers in Campinas will work closely with colleagues at the University of Oxford and the University of Toronto to generate selective small molecule inhibitors – or chemical probes – that can be used to uncover new ideas for therapies. After sufficient testing, they will be made available to Brazilian and international scientists without restriction on use.
"Despite their importance and suitability for drug discovery, only a small fraction of kinases have been studied," said Arruda. "We will be targeting a list of 26 under-explored kinases that are linked to neurological diseases, angiogenesis and cancer. They represent a rich source of new biology and are the focus of this proposal. By creating this open access chemistry platform at UNICAMP, we hope to establish UNICAMP as one of the world centres of kinase chemical biology." 
The knowledge gained by SGC researchers is shared freely with the world, bound by no patents or proprietary agreements. 
"Through our international public-private partnership, we are able to support a robust, efficient and effective network that can identify new pharmaceutical treatments to address unmet medical needs in cancer, metabolism, inflammation and other diseases," said Professor Aled Edwards, chief executive officer of the SGC. "Capitalizing on the outstanding scholarship already present at UNICAMP, supported by FAPESP, a third SGC outpost can be established to further our commitment to open access research and discovery."
This work is supported by partners in the pharmaceutical industry, including GSK, who contribute both technical expertise and funds to uncover new discoveries in one of the most successful target areas in drug discovery.
"We are strong proponents of an open public-private partnership to address the untargeted kinome," said Bill Zuercher, senior scientific investigator, GSK Research and Development. "This centre will allow us to work alongside other partners in a non-competitive way to share knowledge and access to privileged and valuable research tools that otherwise may have remained unutilized. We are excited and hopeful that this effort will improve our ability to select effective targets for new medicines – even a marginal improvement would significantly benefit patients." 
The new centre was formally launched on March 10, 2015.