Book by U of T professor explores humorous side of photography
In his new book, Louis Kaplan turns his lens on the sometimes ticklish world of humorous photography.
The professor of visual studies at the University of Toronto Mississauga recently launched Photography and Humour. The book details how photographers from the mid-1800s to today have found humour in the world, and how viewers have found amusement from photographs.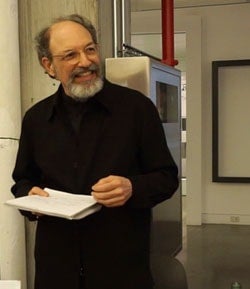 "Humour is what makes us human," says Kaplan, who received a Jackman Humanities grant in 2015 to explore the topic. "Photographic humour gives us a view to our own mortality. It can be about about laughing in the face of death, defusing anxiety or even a discourse on identity and identification."
The book, which is intended for a wide audience, chronicles the photographic use of humour from the early 1800s to more modern incarnations. The historical survey features 100 images from genres that include animal photo bombs, visual puns, absurdist humour, political satire and role-playing. 
One of the earliest known photos to employ humour was created by Hippolyte Bayard. A pioneer in early photography, the French artist was overlooked when rival Louis Daguerre developed an alternate photo development process. Bayard registered his protest through his art in a darkly humorous 1801 photo, "Self portrait as a drowned man," in which he pretends to have committed suicide.
"It's sad and funny at the same time," says Kaplan (photo above). "Bayard has failed, but he's trying to find a way to do something with the suffering and pain by transforming it into laughter for himself and his audience."
For other photographers, a funny image is dependent on the kind of timing employed by stand-up comedians.
Kaplan explores the work by New York photographer Arthur "Weegee" Fellig, a crime and street photographer who was an expert at documenting tragedy but also had an uncanny knack for visual jokes. In Simply Add Boiling Water, Fellig's photo of a factory fire (photo below) captures smoke and water streaming from a building topped by an billboard advertisement for frankfurters and the words "simply add boiling water."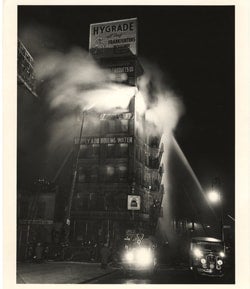 Humour can also help to shine a light on dark subjects.
"There's a constant tension between what's appropriate to laugh at, and what isn't," Kaplan says. "Humorous images can make it more comfortable to talk about what might be taboo. They can expose vulnerabilities and open up questions facing society."
Photographers like John Heartfield, and Peter Kennard and Cat Phillipps who work under the name kennardphillipps, use photomontages to make political statements about war and politics.
"These images are biting satirical humour," Kaplan says. "You can trace that over 100 years – that need to make authoritarian figures look ridiculous. They are good examples about how humour can be serious business."
On the lighter side, Kaplan also explores the work of artist Vik Muniz, who photographs famous artworks recreated with unorthodox and mundane materials, such as the Gorgon's head on a dinner plate made of pasta and sauce in "Medusa Marinara" or a reproduction of Jackson Pollock's splatter paintings rendered in chocolate sauce.
"It's funny and conceptual and makes us think twice about what we see and believe to be real," Kaplan says.
With the modern explosion of digital photography, Kaplan also traces the emergence of new depictions of humour like animal photo bombing.
"It shows how contemporary this topic really is," he says.
.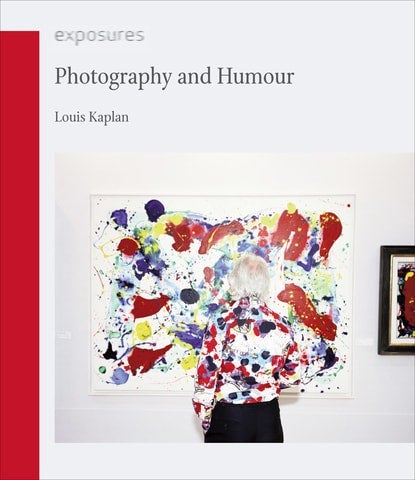 UTM